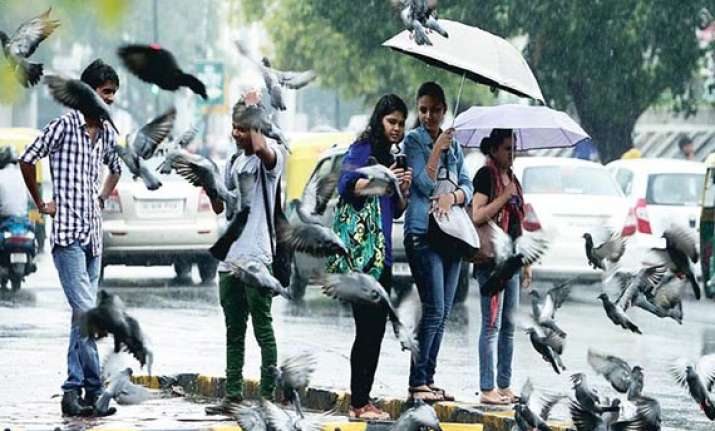 New Delhi: Heavy rains in the capital caused waterlogging and traffic jams in various parts of the city Friday morning, but clear skies later in the day helped improve the situation. The met department has forecast more rain Saturday.
"The showers will continue tomorrow (Saturday) and the skies will be cloudy," said an official of the India Meteorological Department (IMD).
The maximum temperature Friday was 30.5 degree Celsius, three notches below normal while the minimum was 24.5 degree Celsius, two notches below normal.
The maximum and minimum temperatures Saturday will, respectively, hover around 29 and 25 degrees Celsius.
Commuters were stuck as a heavy downpour began at around 8 a.m. resulting in waterlogging on account of poor drainage.
The traffic wing of the Delhi Police received numerous complaints of traffic snarls due to choked drains but parts of south Delhi were the worst hit, a traffic police officer said.
Traffic moved at a snail's place on Lala Lajpat Rai Marg, Adchini and Sri Aurobindo Marg in south Delhi. There were major bottlenecks on the roads leading from Delhi to Gurgaon and Noida.
Non-functioning traffic signals only added to the woes of office-goers.
GTB Road in north Delhi, the area near Akshardham Temple in east Delhi and Minto Road in central Delhi along with August Kranti Marg, Bhishma Pitamah Marg, Hauz Khas, Shahpur Jat and Saket in south Delhi were waterlogged.
The city received 35.2 mm of rain from 8.30 a.m. to 5:30 p.m., IMD said.
Since the monsoon's arrival in June, Delhi has received 539.2 mm of rain, 29 percent more than the average.
Thursday's maximum temperature was three notches below average for the season at 30.7 degrees Celsius. The minimum was two notches below average at 24.7 degrees Celsius.