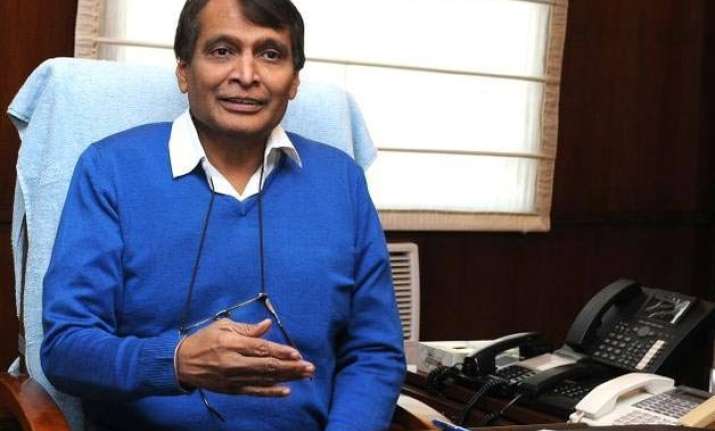 New Delhi: Railways is facing an "existential crisis" because it was systematically ignored for long by favouring the road sector, Railways minister Suresh Prabhu said but ruled out the stock market route by making it a listed PSU like ONGC to raise funds.
"Railways lost traffic to road. It is because you make investment three to four times higher in road than railways. You have systematically ignored rail favouring road. Now it has become an existential crisis for railways.
"If you want to increase the share of traffic to rail from road, you have to invest more in rail," Prabhu said in an interview to PTI.
The minister was responding to as to why despite the best efforts, Railways have failed to share the road traffic.
He further added that railways cannot handle even if free goods transportation was allowed to increase the traffic share as it does not have the capacity.
"For argument sake even if you decide to allow people to have free freight transportation, can railways handle it? Railways' ability to handle today is determined by the ability to carry. Where is the capacity to carry? So, therefore, you must make investment," he said.
According to the latest CAG report on Railways, the Indian Railways was unable to meet its operational cost of passenger and other coach services and there was a loss of Rs 23,643 crore in the same during 2011-12.
Asked about the suggestions that Railways should also be listed on the stock market to raise money like government has done in many other sectors including ONGC, the minister said, the national carrier has unique characteristic and it was not advisable to do so.
"Railways is a ministry like the petroleum and natural gas ministry. ONGC is a corporate body. Railways is a department enterprise. Therefore, we cannot .....think about that and it is not advisable also to think about it because railways have a very unique characteristic," Prabhu said. He said even if railways was segmented into divisions, the listing was not advisable.
"It has social responsibility, commercial interest, it has to get resources from the budget. To create something like this at this particular time it may not be advisable," the minister added.