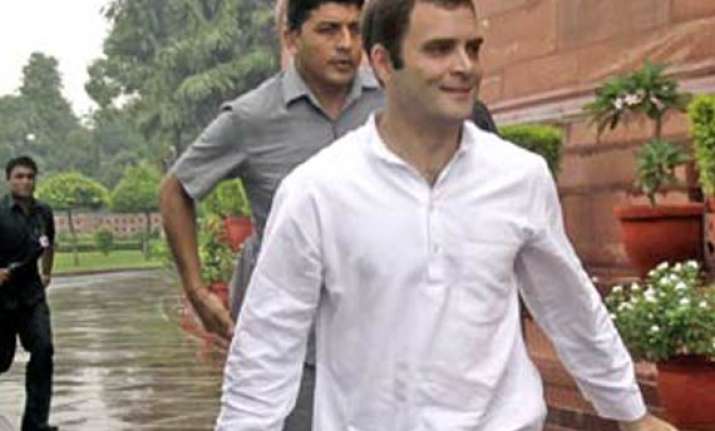 New Delhi, Dec 14: Rahul Gandhi will be back in Delhi today from his campaign tour in Uttar Pradesh for the adjournment motion on black money to be moved by BJP leader L K Advani in Lok Sabha.

Sources in the office of the Congress General Secretary said that Rahul, who began his five-day tour of UP yesterday, will resume his campaign after that and no programme has been cancelled.

BJP leader S S Ahluwahlia had yesterday said that the party has decided to bring an adjournment motion on black money to be moved by Advani in Lok Sabha. 

BJP has been pressing for the motion since the winter session of the Parliament began over two weeks ago in the backdrop of Advani's yatra against black money and corruption. 

Government sources have already said the motion is likely to come up with a milder wording following an agreement between BJP and the government sometime ago. Instead of "government failure", the opposition party has agreed to the words "the situation arising out of," the sources said. 

This would mean that the motion will be without the sense of government censure and that voting is likely on a neutral motion.

Leader of the opposition in the Lok Sabha Sushma Swaraj had said some time ago that with the desire to enable the functioning of Parliament her party had agreed to the changed wording of the adjournment motion on black money.

BJP has made black money a major issue since the last Lok Sabha elections.

It is pressing the issue since the French government reportedly gave the names of 700 Indians holding Swiss bank accounts and wants the government to make those names public.

BJP MPs have also given declarations to the Presiding officers that they do not have any illegal money stashed abroad.