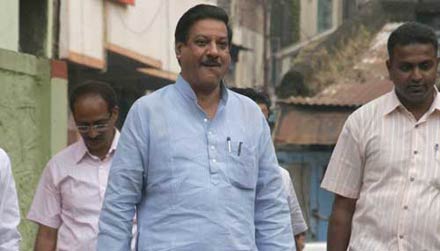 New Delhi/Mumbai, Nov 10 (PTI) Union Minister Prithviraj Chavan, a technocrat-politician, was today selected as Maharashtra's new Chief Minister with the NCP also mirroring the change bringing in Sharad Pawar's nephew Ajit Pawar as his deputy dislodging popular OBC leader Chhagan Bhujbal.
64-year-old Chavan, a US educated engineer, was chosen by Congress president Sonia who was  authorised by Maharashtra's CLP to select the successor of Ashok Chavan axed yesterday in connection with the  Adarsh Housing Society scam in Mumbai.
 Chavan, an affable low-profile Congress leader from the politically dominant Marathwada region who entered the hurly burly of politics at the persuasion of Rajiv Gandhi, is expected to be sworn-in as the 22nd chief minister tomorrow to head the Congress-NCP coalition government.
The announcement of selection of Chavan was made by senior Congress leader Pranab Mukherjee.
"Congress President Sonia Gandhi has chosen Prithviraj Chavan as the Maharashtra Congress Legislature Party leader," Mukherjee told reporters in New Delhi.
Against the backdrop of factionalism in Maharashtra's Congress unit, Chavan, Minister of State in the Prime Minister's Office(PMO) and an AICC General Secretary, in significant comments said "I will try to to take everybody with me together." He was also the minister of state of Parliamentary affairs.
Hours after the selection of Chavan, the legislature party of Congress' junior coalition partner NCP met in Mumbai after which it was announced that 51-year-old Ajit Pawar, who missed the deputy chief ministership by a whisker when the Ashok Chavan gaovernment was formed, will succeed Bhujbal.
Top NCP leaders including Praful Patel, who flew in from Delhi to attend a meeting of NCP legislators, spent over an hour placating a sulking Bhujbal, who may still continue in the state cabinet.
  Bhujbal himself proposed that Ajit Pawar be named new legislature party leader while R R Patil seconded the proposal, Patel said.
Ajit Pawar is likely to hold Home portfolio, besides Energy, party sources said. R R Patil, a senior NCP leaderholds the home portfolio.