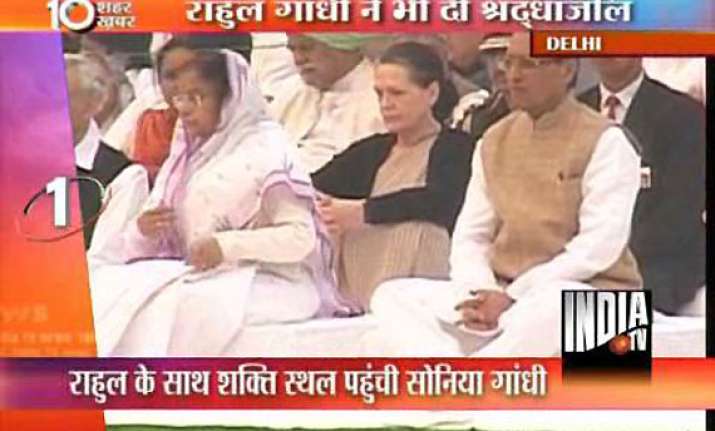 New Delhi, Oct  31: The President, Prime Minister and Congress president Sonia Gandhi on Monday went to Shakti Sthal here today to offer prayers to former prime minister Indira Gandhi on her 27th death anniversary.

Lok Sabha Speaker Meira Kumar, Delhi Lt. Governor Tejinder Khanna, Union Ministers Vilasrao Deshmukh, Kamal Nath, K.V. Thomas, N. Narayana Swamy and Krishna Tirath and Congress leaders Motilal Vohra, Manishankar Aiyar were also present.

Devotional songs were played at the venue as the dignitaries sat at Shakti Sthal after paying tributes to the late leader. A speech by Indira Gandhi was also played on the occasion.

Indira Gandhi was assassinated by her bodyguards on October 31, 1984, four months after she launched 'Operation Blue Star' to flush out heavily-armed militants led by Jarnail Singh Bhindranwale from the Golden Temple complex in Amritsar.