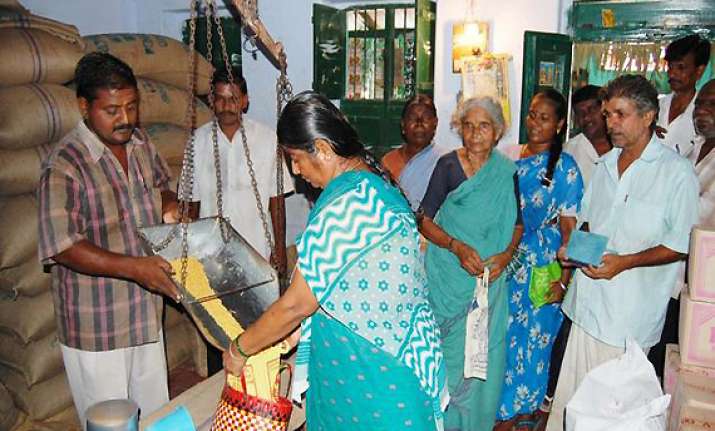 New Delhi, Mar 16: Finance Minister Pranab Mukherjee today said that the government was determined to create food security for all targeted people especially the poor and vulnerable segments of society.  

Mukherjee said in order to realize the objectives of the National Food Security Bill, a national information utility for computerization of PDS is being created which will become operational by December, 2012.

Mukherjee announced a major initiative to strengthen Panchayats across the country through Rajiv Gandhi Panchayat Sashaktikaran Abhiyan (RGPSA).

Mukherjee announced continuance of Backward Regions Grant Fundscheme in 12th plan with enhanced allocation of Rs.12,040 crores, an increase of 22 percent over the BE 2011-12.

Attributing poor sanitation and water quality, the main reasons contributing to malnourishment, Mukherjee proposed to increase the budgetary allocation for rural drinking water and sanitation from Rs. 11,000 crores in 2011-12 to Rs. 14,000 crores in 2012-13.

For creating warehousing facilities in rural areas, Mukherjee proposed to earmark an amount of Rs. 5,000 crores from the enhanced allocation of Rs. 20,000 crores under Rural Infrastructure Development Fund .

Mukherjee announced a Multisectoral Nutrition Augmentation Programme to combat malnutrition.

On the problems of maternal and child malnutrition, Mukherjee announced a multi-sectoral programme in selected 200 high burden districts.

For Integrated Child Development Services, Mukherjee announced a hike of 58 percent in the budgetary allocation for this scheme compared to last year.

Similarly he proposed to hike the allocation for National Programme of Mid Day Meals in Schools from Rupees 10,380 crores in 2011-12 to Rupees 11,937 crores in 2012-13.

The Finance Minister proposed an allocation of Rupees 750 crores for Rajiv Gandhi Scheme for Empowerment of Adolescent Girls, SABLA.