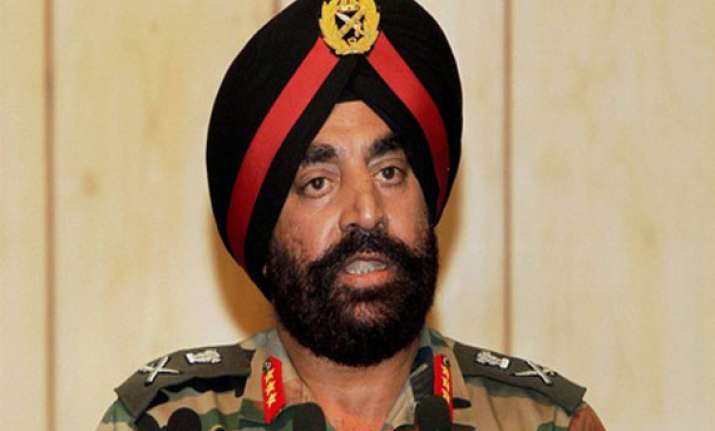 Srinagar: Pakistan's special troops were suspected to be involved in the massive infiltration bid by militants which is being countered by the Army in a major operation for the ninth day today in Keran sector along the LoC in which five Indian soldiers were injured.
The operation launched on September 24 is continuing with the Army saying the magnitude of infiltration from multiple points at the Line of Control was quite different from the trend seen in the earlier attempts in an indication that some special troops of Pakistan were involved.
About 30 to 40 terrorists were reported to be involved in the infiltration.
Although General Officer Commanding of the Army's 15 Corps Lt Gen Gurmit Singh maintained it will be premature to say whether the Pakistan Army was involved in infiltration of militants, he said there were definite indications that some special troops were part of it.
"From the operation that is going on till now and the strength (of infiltrators) and the multiple points they attempted (to infiltrate), give the indication that definitely there were some special troops. This is quite different from the trend we have seen in the earlier infiltration attempts," he told reporters here.
Gen Singh said the analysis of this infiltration bid indicated the involvement of Border Action Team (BAT), a mixture of Pakistani regulars and militants.
"I can only say, analysing the methodology of this infiltration, it was not a pure infiltration (attempt). It was a BAT-cum-infiltration (bid). The number of militants who attempted this infiltration was rather large. In fact, yesterday night 10 to 12 militants tried to sneak into the cordoned off area from across," he said.
"We are in total control of the operation which was launched on September 24. The reports of our posts being captured by the infiltrators are absurd," he added.
Five soldiers have been injured in the operation that entered the ninth day today, Lt Gen Singh said.
"All the injured soldiers have been hospitalised and are stable," he said.
Gen Singh refused to give details of the operation, saying it could compromise the effectiveness and strategy used by the Army against the infiltrators holed up in the area.
He said the operation was started on the basis of specific intelligence inputs about possible infiltration in Keran sector by militants from across the LoC.
The militants have been cordoned off by the soldiers but the operation was being carried out in a calibrated manner to avoid Indian casualties, he added.