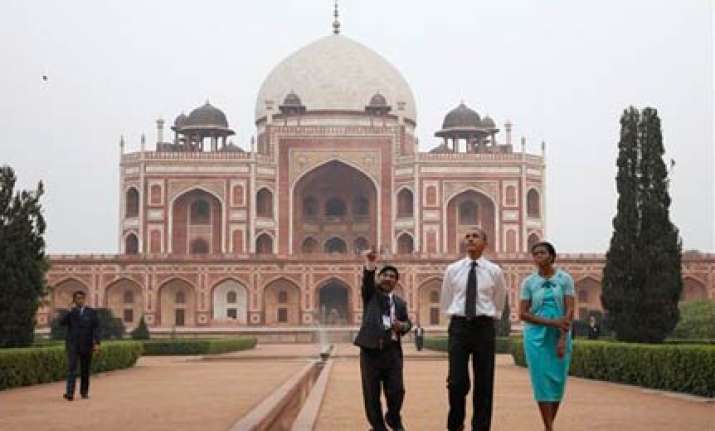 New Delhi, Nov 7 (PTI) US President Barack Obama and his wife Michelle today had a glimpse of India's rich cultural and historic heritage as they visited the 450-year-old Mughal marvel Humayun's Tomb here.
Obama, who kicked off his engagements in Delhi with the visit to the 16th century marvel, went around with his wife intently getting the feel of the monument, which is said to have inspired the creation of Taj Mahal.
49-year-old Obama and Michelle drove to the monument soon after their arrival from Mumbai at the airport here, where the US' first couple was personally received by Prime Minister Manmohan Singh and his wife Gursharan Kaur.
Obama became the first American President to visit Humayun's Tomb, the resting place of Mughal emperor Humayun, which is an artistic precursor to the 17th century monument of love Taj Mahal.
"Wonderful. Let's take a look," Obama said as he entered the main building. Then, ASI Superintendent Archaeologist, Delhi, K K Mohammad, took the First Couple around the monument explaining its history.
Then, Mohammad explained to the First Couple about the history of the monument while he took them around the plush green gardens that surround a central structure.
The beautiful red-stone monument in Nizamuddin in south Delhi, built over 450 years ago, now sports a new look after a major renovation exercise thanks to the efforts of the Aga Khan Trust for Culture and Archaeological Survey of India.
At the entrance of the monument, Obama was received by ASI Director-General Gautam Sengupta and other officials.
Obama, dressed in white shirt with a tie and black trousers, and Michelle listened intently and were seen enquiring about the various elements of the 450-year-old structure.
Then, Obama and Michelle met 14 kids, children of workers at the monument, and even shook hands with them. The kids, aged from 4 to 10 years of age, were accompanied by their parents. 
The first garden tomb in the Indian subcontinent, the mausoleum was commissioned in 1562 by Humayun's widow Hamida Banu and designed by Mirak Mirza Ghiyath, a Persian architect, a decade after the death of the Emperor.
The monument now sports a new look, thanks to the conservation work being carried out by Aga Khan Trust for Culture and the ASI. The work which began in 1999 -- six years after Humayun's Tomb was declared a World Heritage Site -- was being done in phases.
The ASI and AKTC have finished reviving the five-century old water channels of the garden surrounding the tomb.