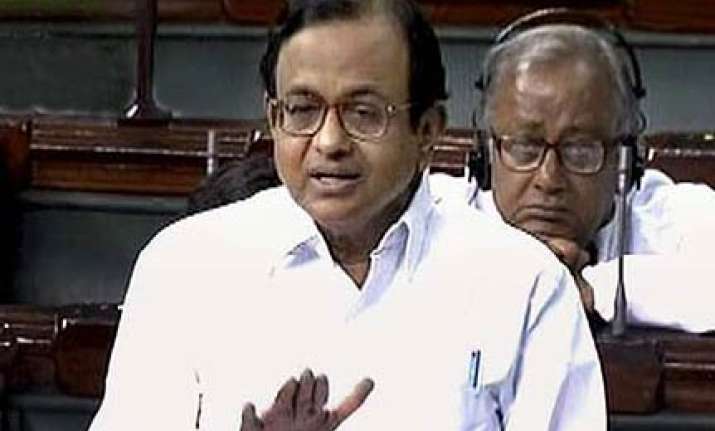 New Delhi:  Government on Thursday said there were no no records of calls made by Home Ministry officials before the exit of former UCC chief Warren Anderson's from India in December, 1984 and on the "safe passage" assurance reportedly given to him.  
A day after Arjun Singh sought to point fingers at P V Narasimha for the exit of former Anderson from India, an accused in the Bhopal gas disaster case, Home Minister P Chidambaram also gave a clean chit to the then Prime Minister Rajiv Gandhi in the Rajya Sabha. He told the BJP members that "your intention" in raising this issue  was "weird" and to point fingers at Gandhi.  
Replying to a debate on the world's worst disaster that had claimed over 15,000 lives, he utilised the occasion to say that the "elected class", Parliament and Executive failed victims of Bhopal and they deferred to the judiciary which took over a number of things which were not not in its domain.  
Relying  on former Madhya Pradesh Chief Minister Arjun Singh's contention in the House to give a clean chit to Gandhi, he also cited contemporary media report to emphasise that Gandhi was not aware about Anderson being allowed to leave the country after his arrest in Bhopal on December 7,1984.  
"Safe passage (to Anderson) was indeed given,according to (M K) Rasgotra (then Foreign Secretary) and he was allowed to leave the country, according to Arjun Singhji. I am in no position to confirm or deny it," Chidambaram said. He was responding to questions by Leader of Opposition Arun Jaitley  and members of the Left parties as to who was responsible for allowing Anderson to leave the country.  
"Neither the prime minister nor the chief minister knew about Anderson's exit," Leader of the Opposition Arun Jaitley had said in his speech. CPI(M) member Sitaram Yechury expressed surprise how records on these developments were not not in government archives. The Home Minister said the principal player, Arjun Singh, has said that Rajiv Gandhi had nothing to do with Anderson's exit and it has to be believed.  
Chidambaram said it was possible that the safe passage was "negotiated" by the US Embassy officials. "This can be described as pressure or duty on their part," he said.
Reiterating that safe passage was given, he said, "Beyond that I have not found evidence of any US pressure in what has been done in the last 25 years. Why shift blame to the US for our commissions and omissions?"  
During his over one-hour reply, Chidambaram  referred to Singh's statement yesterday in the House that Anderson was allowed to leave the country after "persistent calls" from the officials of the Home Ministry in Delhi, which was then headed by  Narasimha Rao, to the MP Chief Secretary then, to grant him bail. "To the best of my enquiry,no records have been found as to which Home Ministry official made call to Brahm Swarup (then Madhya Pradesh Chief Secretary)," he said.  
He also cited a contemporary media report which said that it was 'quite possible' that Rajiv Gandhi was not aware of Anderson's safe passage. Chidambaram said that he believed in the report and told the BJP members that they could not not selectively rely on portions of Arjun Singh's statement and contemporary media reports which suited them.  
Taking a dig at Jaitley, Chidambaram said such questions should have been raised in 2001 when the Leader of the Opposition was the Law Minister.  
"If you had asked this question in 2001, a more competent Home Minister than me could have found out the records and answered the question" he said in an apparent reference  to senior BJP leader L K Advani.  
Holding successive governments responsible for dealing with the Bhopal tragedy in the "most unsatisfactory" manner, Chidambaram said,"we did many things wrong in the last 25 years". He said the government was committed to seeking Anderson's extradition and the Ministry of External Affairs was pursuing the case.  
About the criminal liability and the possibility of Anderson being booked under the stringent section of the law a curative petition has been filed in the Supreme Court to review its earlier judgement.  
The Home Minister had a jibe at Jaitley who had said yesterday that the blame was being put on those who are dead. "If you raise the issue after 25 years, most people   would have died. If you raise it after 50 years, all would have died.  As years roll by, memories tend to fade, memories tend to play tricks."  
To questions over liability for the 26 year-old disaster in which over 15,000 people died, he said Union Carbide's Indian units had been taken by Eveready Group while its international assets have gone to the Dow Chemicals. A petition on the fixing liability in the Jabalpur High Court since 2005. The government wants an expeditious decision and has asked for creation of a special court for this.  
"Once the liability is fixed we can seek restitution. We are not going to allow anyone go scot-free," he said. Rejecting the demand from the Left, he ruled out reclassification of the victims saying it was not practical.  
Brinda Karat(CPI-M) had pointed out that according to government,only 5295 people had died in the tragedy, although the fact was over 15,000 had perished.The government figures are based on immediate death toll.  
The Home Minister, who is heading the Group of Ministers on Bhopal gas set up recently, said he felt "a deep sense of guilt" that in all these 26 years victims neither the Parliament nor the Executive showed the vigil that they should have shown. The victims have been let down by Parliament, executive and political class. The responsibility was thus, abdicated to judiciary. "Executive and Parliament thought that they could hide behind the judiciary".  
Chidambaram said that the Bhopal gas victims memorial hospital which was being run by an NGO will be taken over by the Department of Atomic Energy. The Indian Council of Medical and Research has been asked to do research on different diseases related to the toxic effect.  
About the disposal of the 1.1 million tonnes of toxic waste, he said he felt it could buried at the site,as its movement would not be safe. However, decision would be taken by an expert committee. The Centre would bear the entire cost of the remediation by the State Government. PTI