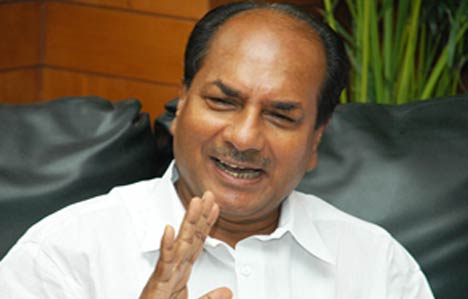 New Delhi, Nov 11 :  Defence Minister A K Antony today said his ministry will "not cover up" the Mumbai housing society scam and initiate "strict" action against those found guilty in the case in which names of top armed forces officers, bureaucrats and politicians have figured.
"I can tell you only one thing... whenever we find anything wrong, we will not cover it up. We will take strict action," Antony told reporters here on the sidelines of an IDSA event here.
He was replying to a question if names of more defence officers were tumbling out in the Adarsh Housing Society case.
Antony said the ministry had requested a CBI probe in the case on the recommendations of Army Chief General V K Singh, to whom complaints from some members of Parliament in this regard had been forwarded.
"When we got a complaint from some members of Parliament about these allegations, we immediately referred them to the Army Chief.
"He made an extensive study and after that sent recommendations to the government. He told the ministry since there were so many complex issues involved (in housing scam), it is better to send the matter to CBI," he said.
After the Army Chief's recommendations, the Ministry too sought a detailed study on the matter and called for reports from the Army, Navy and Directorate General of Defence Estates.
"Ultimately, we came to the conclusion that it is better to accept the recommendations of the Army Chief and we referred it to CBI for inquiry. So let's wait for CBI inquiry. Before that, I do not want to come to any conclusion (on the scam)," he added.
The Defence Minister had recommended the CBI probe to the government into the scam a couple of days ago to investigate the circumstances under which a No Objection Certificate was issued to the Housing Society to construct the 31-storey building on a piece of land, which was in the "de facto" possession of the Army.
The probe agency will also investigate the commitments made for allotment of flats in the 104-apartment society for Kargil widows and martyrs' families.
Names of former Army Chiefs Gen Deepak Kapoor and Gen N C Vij, besides former Navy Chief Admiral Madhavendra Singh figure in the list of allottees in the housing society that was reportedly meant for families of Kargil martyrs.  PTI