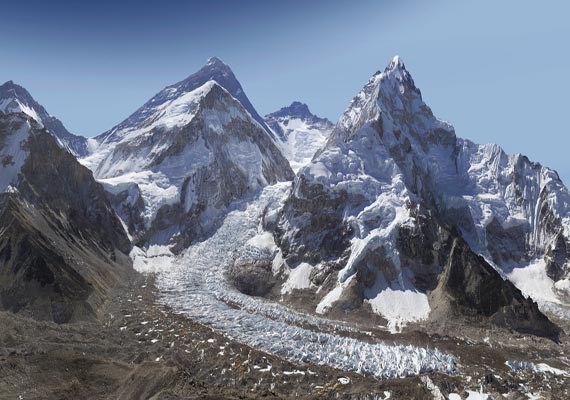 Itanagar, May 19: It was a 'red letter day' for the Indian mountaineering fraternity as nine more climbers from North East India scaled the Mount Everest and raised the tricolor on Saturday.
Six climbers started their summit push from the South Col at 8 pm Friday night and climbed whole night to reach the roof top of the world at 5.50 am (Nepal standard time) yesterday, Tsering Wange, president of Arunachal Mountaineering and Adventure Sports Association (AMASA) informed today.
They are Anshu Jamsenpa (Arunachal Pradesh-AP), Tarun Saikia (Assam), David Zohmangaiha (Mizoram), Wangshuk Myrthong (Meghalaya), Kazi Sherpa (Sikkim) and Nameirakpam Chingkheinganba of Manipur who become the youngest Indian climber at the age of 16.
Earlier on Friday, Nima Lama from Arunachal Pradesh, Bidyapati Devi from Manipur and Anand Gurung from Sikkim scaled the world's highest peak.
Anshu Jamsenpa of Arunachal Pradesh, the deputy leader of the expedition, became the first Indian woman to summit the highest peak in the world thrice.
She already holds the record of being the only mother in the world to summit Mt Everest twice in 10 days.
Facing the deadly wind speed of 100 km per hour, they scaled the highest peak in a adverse weather condition.
Climber Manish Deka (Assam) and Athokpam Robert (Manipur) had to abort their summit push from South Col (26,200 ft) as climber Waribam James (Manipur) was evacuated by chopper due to worsening health problem while negotiating the climb between Camp 2 and Camp 3 (24500 ft).
The expedition, the first ever comprising exclusively of mountaineers from North East, is being executed under the leadership of Manipur Mountaineering and Trekking Association (MMTA), under the leadership of its president Dr L Surjit, and funded by North Eastern Council with support from Planning Department of Manipur.
During the acclimatisation, the expedition team had reached Camp-III on April 30 after which they returned and went with the final push for the summit.
President Pranab Mukherjee had flagged off the first ever north east Mt Everest expedition on March 20.