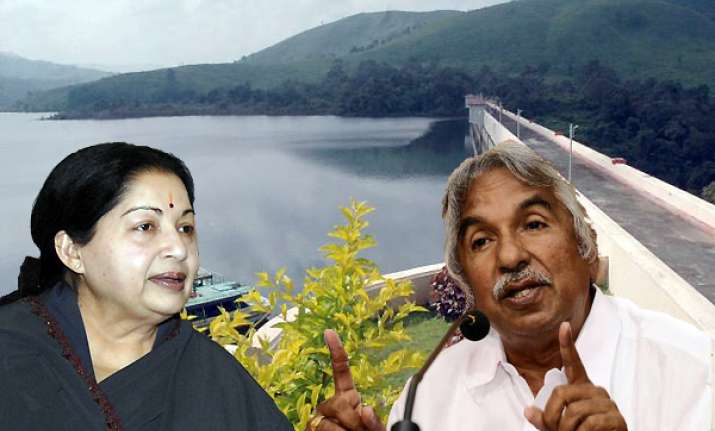 Thiruvananthapuram/New Delhi, Dec 2: As the Mullaperiyar dam row escalated, Prime Minister Manmohan Singh on Thursday said nothing should be said or done to create "undue alarm" while Tamil Nadu accused Kerala of whipping up a 'fear psychosis'.

Kerala Chief Minister Oomen Chandy, who is expected to meet the Prime Minister today, in his first communication to his Tamil Nadu counterpart J Jayalalithaa after the latest row erupted wrote a letter asking for reducing the water level in the reservoir to 120 feet as an immediate step to remove the fears of lakhs of people in the area.

In her response, Jayalaithaa referred to "unwarranted provocations from across the border" and said Kerala should abide by the Supreme Court order by allowing the water level in the dam in its Idukki district to be raised to 142 feet.

With emotions running high in both the southern states, Singh sought to defuse the situation writing to Jayalalithaa, saying nothing should be said or done to create "undue alarm" and hoped the issue would be sorted out amicably through dialogue.

Replying to letters written by Jayalalithaa on the Mullaperiyar issue, Singh said he had asked the Water Resources Ministry to convene an early meeting between officials of Tamil Nadu and Kerala to "sort out outstanding issues and allay genuine concerns".

He also sought Jayalalithaa's cooperation on the issue.

"I believe that nothing should be said or done to create undue alarm among the people," he added.

The Tamil Nadu government moved the Supreme Court accusing Kerala government of whipping up "fear psychosis" on Mullaperiyar row and sought the court's direction, restraining the state from making any controversial statement.

According to Tamil Nadu, the statements emanating from Kerala were "creating deep rooted animosities" between the people of the two states and posing grave threat to the peace and law and order situation in the two neighbouring states.

Chandy, who is on his way to Delhi, is slated to meet the Prime Minister and other Central leaders today to drum up support for the construction of a new dam in place of the 116-year-old Mullaperiyar reservoir, citing safety concerns.