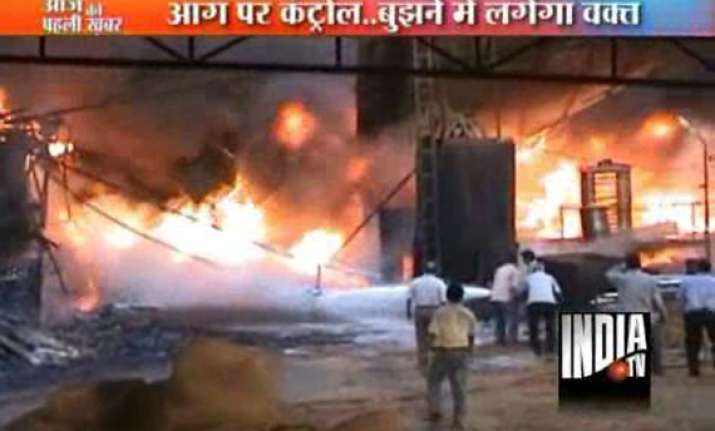 Varanasi, April 29: A major fire on Saturday evening completely gutted an oil mill in Ashapur near Sarnath.
The blaze was so intense that firemen could not extinguish it even after ten hours.  
The oil mill is located near a petrol pump, but fire officials said it posed no threat to the petrol pump.  
Fire officials ultimately managed to control the fire by 12:30 am.  
The fire occured at Jhunjhunwala Oil Mill at around 2 pm. A tanker loaded with vegetable oil exploded after catching fire and soon spread throughout the mill.  
At first five fire tenders were sent, and soon after three more fire tenders were brought from Varanasi and Chandauli. The blaze continued to spread despite strenuous efforts on part of the firemen.  
The petrol pump is located hardly 300 metres away from the oil mill. 
Thousands of litres of vegetable oil  flooded the road after the oil tanker exploded.  
People living in the  vicinity of the oil mill were asked to evacuate to minimize the risk of fire.  
Officials said it will take more time to fully extinguish the fire, as there were thousands of bags of rice bran kept inside the mill, which are combustible.