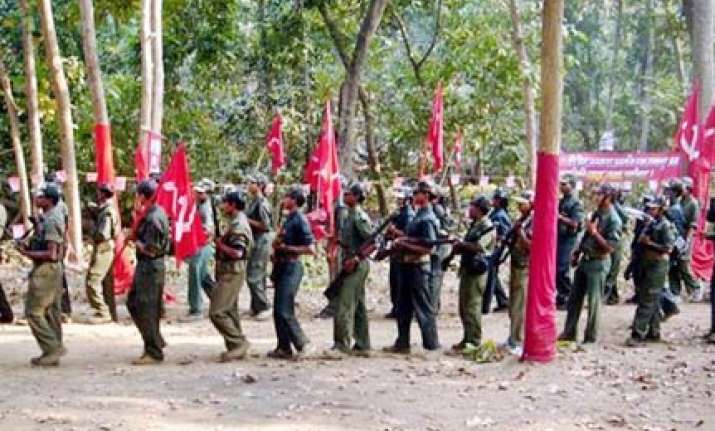 Maoists trying to shield their top brass from rapidly intensifying government operations in their jungle bases have instructed cadres and sympathizers to identify hideouts in India's bigger cities, which are currently not under watch for a Naxal presence, says an Indian Express report.
Security agencies have picked up credible information about instructions being sent out to identify hideouts in cities like Ahmedabad, Surat and Baroda, and the state of Goa.
While aoists keep replacing politburo members who are nabbed, sources said the absence of six or seven key politburo members who have been arrested so far is bound to impact the rebel leadership.
The Maoist central committee comprises 37 members, including 14 politburo members. Twelve of them are in custody — among them, Kobad Gandhy, Amit Bagchi, Arvind alias Balraj who headed operations in Uttar Pradesh, Pramod Mishra, Susheel Roy and Narayan Sanyal.
The arrest of top Orissa Maoist Sabhyasachi Panda's wife has galvanised the state police, who had thus far been lukewarm to the push against the rebels.
Coordinated operations in Chhattisgarh have started delivering results. There was a 70 per cent decline in police casualties in the second half of last year: while 65 policemen including paramilitary forces personnel lost their lives between January and June, 2009, only 19 were killed in the six months that followed.
The number of blasts triggered by Naxals went down from 34 in the first half of 2009 to 18 in the second.
These successes coincided with Chhattisgarh launching its local Operation Green Hunt in the latter half of 2009. Soon afterward, as the Centre pushed for joint operations, the borders of Chhattisgarh with Jharkhand and Maharashtra became the first theatres of coordinated action against the Maoists. Orissa is now being prepared so that Maoist cadres find it difficult to move to safe havens.
In the wake of this assault, sources said, the Maoists are worried for their senior leaders, which explains their urgency to find hideouts in big cities to escape detection. Repeated instructions have apparently been sent to sympathizers to help at this juncture.
The rebels also appear to be facing a crunch of arms and ammunition. With one of their main explosives making facilities busted in Chhattisgarh, the supply of bombs and mines has been hit. Increased vigilance from the state police has made their challenge tougher.
But the biggest positive for the operation, sources said, has been the growing cooperation from local inhabitants who are now willing to share information and play a vital role in intelligence-led assaults. The gradual erosion of the Maoists' local support is what the Centre is seeking to achieve as a near-term political objective.