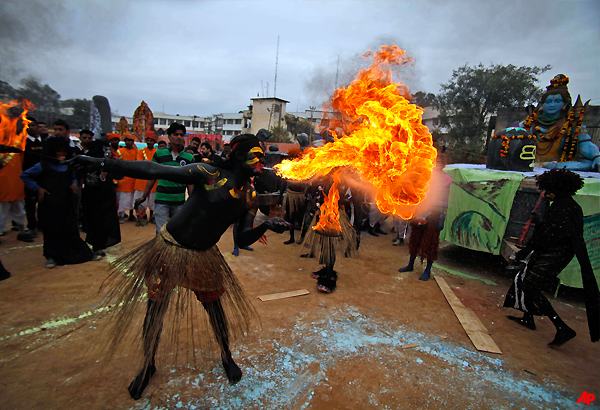 New Delhi/Varanasi/Ujjain, Feb 20: Mahashivratri is being celebrated throughout the country today in almost all the major temples and shrines.

Hundreds of devotees flocked to the famous Kashi Vishwanath temple on Sunday midnight to offer prayers to the Shiva Lingam.

In Ujjain, thousands of devotees are offering prayers at the famous Mahakaleshwar Temple.  The same was the scene in Tryambakeshwar Temple in Nashik.

Devotees went to the famous Baijnath Dham near Deoghar in Jharkhand to offer prayers to Lord Shiva.

A 31 feet high Shiv Lingam was created in Valsad, Gujarat with the help of 20 lakh rudrakshas and devotees are flocking there to watch the special lingam.

The Archaeological Survey of India in Delhi has put on display a nearly 4,000 years old Pashupati statue, considered to be the oldest Shiva idol.

Hundreds of devotees went to Daksheshwar Mahadev Temple in Haridwar to offer prayers.