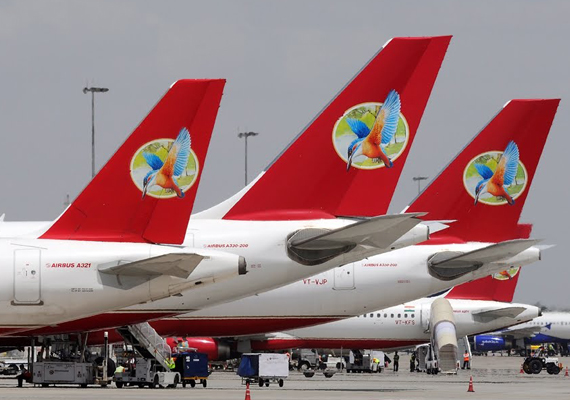 New Delhi, Feb 19: Flight schedules of Kingfisher Airlines was disrupted for the second day today as it cancelled a large number of flights with the Income Tax department freezing some of its accounts.

As many as 16 flights from Mumbai and four from Delhi, including one to Kathmandu were cancelled. Operations from Kolkata, from where it operates at least seven flights each day, are halted since Friday night.

Alarmed over reports of large-scale flight disruptions, Directorate General of Civil Aviation has started gathering information on the cancellations and delays and would decide whether to initiate any action on the airline on that basis.

"We have received reports about large-scale cancellations. They are bound to inform us when they cut their schedule. But they have not done so," DGCA chief E K Bharat Bhushan told PTI.

He said if the reports were true, such large of flight disruption would constitute violation of rules.

"We are gathering information from all the centres. Once we get this, we will decide what to do," he said.  Under Rule 140(A) of the Aircraft Rules, 1937 operators require to have prior approval of DGCA to curtail their flight schedules.

Bhushan also said that messages have been sent by the DGCA to all other airlines to accommodate all passengers stranded due to these cancellations by Kingfisher.

"They have to do this without enhancing the fares," he said when asked about the severe hardships being faced by the passengers of cancelled Kingfisher flights.

The airline has admitted curtailment in its flight schedule saying such a situation would continue for the next four days.

"We will operate the full schedule on our booking system within the next four days," Kingfisher spokesman said late last night.

The reasons for cancellation given out by the carrier included bird-hits suffered by its planes.

The airline was operating only about 160-180 flights out of its already curtailed winter schedule of 240. The sources said operations from Tier-II and Tier-III cities are likely to be affected until March-end.  It had also said that the I-T department had frozen its account due to non-clearance of tax dues.

"We confirm that our Bank accounts were attached by the tax authorities. However, this has happened in the past not just to us but also to Air India. We have resolved issues before and will do so again," the Kingfisher spokesman said.

The airline began cancelling its flights as it held talks with bankers to finalise a deal for funds. Kingfisher posted a Rs 444 crore loss for the third quarter.

The airline has suffered a loss of Rs 1,027 crore in 2010-11 and has a debt of Rs 7,057.08 crore, latest figures show.