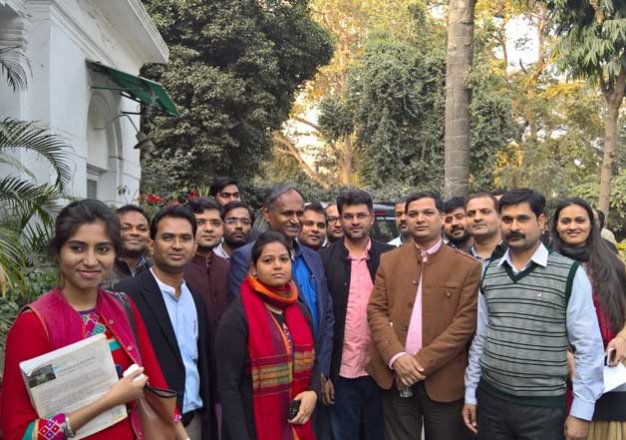 New Delhi:  Former students of JNU led by BJP MP Udit Raj have condemned 'anti-India' and 'pro-Pakistan' sloganeering in JNU campus.
"The condemnable incident of anti-India and pro-Pakistan sloganeering has raised concerns among the responsible citizens of the country and severely dented JNU's image as a premier educational institution of international repute. All over the country it has shown JNU in bad light and as a den of anti-India elements," a press statement issued by 'Ex-JNUites Forum' said.  
"While saying that the culprits should be booked immediately and strict actions under the law should be initiated, we oppose any attempt to interfere with the ongoing investigation by the police in the issue.The incident in JNU should not be seen in isolation. It is not that a handful of students have come out and raised some slogans by mistake. Such incidents are part of larger design to weaken India and mislead its younger generation. Anti-India forces are trying to create such situation in different campuses in the country," it further added.
Read Also: Hackers deface JNU website's library page, splash anti-Afzal Guru statements
The 'Ex-JNUites Forum' also accused JNUSU office bearers of conniving with those who raised anti-India slogans.
"It's a shame that anti-India, pro-Pakistan slogans are raised in connivance with some JNUSU office bearers and the masked people shouting slogans are given not only protection but they added their voice to them. Enough is enough, we condemn this incident strongly and call for stringent action against them," they said.
The forum has decided to launch Online Signature campaign by Ex-JNUites besides holding press conference and Ex-JNUites Solidarity Meet in Constitution Club, New Delhi to strengthen the hands of responsible students of JNU and members of the JNU community who are struggling hard to expose these elements.
The press statement was signed by Udit Raj (MP), Dr. Shiv Shakti Bakshi, Dr. Monica Rathod, Sandeep Mahapatra, Swadesh Singh, Vikas Preetam, Abhay Kumar, Vikash Anand, Dr. Amit Singh, Dr. Manoj Kumar, Saurabh Dubey, Rajshekhar, Dr. Pranav Kumar, Dr. Anshu Joshi and Renu Keer.