Follow us on New Delhi: A group of hackers today defaced the JNU website's central library home page, in an apparent mark of protest against "anti-India" sloganeering witnessed on the university campus on February 9.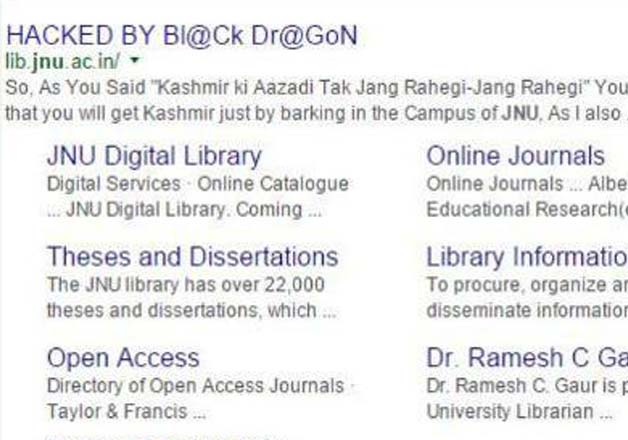 "So, as you said 'Kashmir ki aazadi tak jang rahegi-jang rahegi'. You are thinking that you will get Kashmir just by barking in the campus of JNU," the web page, which opened with a picture of the Indian flag, Lata Mangeshkar's patriotic hit "Aye Mere Watan Ke Logon" playing in the background, and a stern message to the protesting students.
The defacement, claimed to have been carried out by the "Indian Hackers Online Squad" further stated that "Pakistan will never get Kashmir". 
"As I also told Bilawal Bhutto that without any violence let me tell you that Pakistan will never get Kashmir. This is the truth. You have to accept it :) So anti-national elements at JNU should also accept that Pakistan will never get Kashmir," read the message.
JNU authorities have confirmed the hacking of its central library page. "It (the hacking) came to our notice after the office had closed. The IT department has been informed about it. Efforts are on to set it right," university authorities said. 
The message on the JNU website left by hackers appears to be an answer to the alleged anti-India slogans raised by some student groups during an event to commemorate the death anniversary of parliament attack convict Afzal Guru.
Kanhaiya Kumar, the JNUSU president, was arrested later on charges of sedition. He is currently in police custody and investigations are on to ascertain details regarding the said event.    
According to Section 66 of the Information Technology Act, 2000 as amended, damage to computer or computer system as defined under Section 43 is punishable with "imprisonment for a term which may extend to three years or with fine which may extend to five lakh rupees or with both.