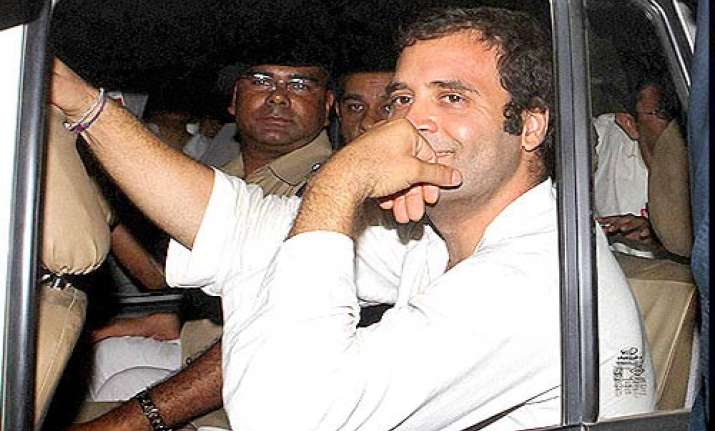 Jaipur, July 29: Farmers in Jaipur have invited Congress general secretary Rahul Gandhi to join their protest over the Ashok Gehlot government's land acquisition policy, reports DNA.

The farmers whose land is going to be acquired under the 47-km Ring Road project  demand market rates from the government for land acquisition.

The representatives of Ring Road Sangharsh Samiti took this decision in a meeting at Balawala station on Thursday. They said  they are willing to give 90  metres land for the project, but not 270 metres for development of the corridor.

The farmers also demanded market price for their acquired land for Ring Road and an affidavit in court by Jaipur Development Authority (JDA) to be filed saying it approves their demands.

The farmers have decided to meet Rahul Gandhi in Delhi within a week, if the government fails to meet their demands.

"Rahul Gandhi has done a lot to get justice for farmers at Bhatta-Parsaul in Noida. Now, we would invite him to fight for the interest of farmers in Jaipur, if the Gehlot government is firm to acquire additional land," said Badri Prasad Sharma, president of the Samiti.Sharma said, the farmers would fight on their own level if Rahul Gandhi refuses to join them.
 
Meanwhile, the representatives have said they are no longer willing to abide by the agreement reached with the JDA under which they were agreed to give land for 360 metres (90 metres for road and 270 metres for the corridor).However, the JDA officials said t talks with farmers will continue to sort out the differences.

On the other hand, some farmers have tried to remove the demarcation of land on their fields done by the JDA.

Meanwhile, sources said,  JDA officials along with Sanjosh Supreme Company have started levelling work near Shivdas-Pura where the farmers' protest had compelled the officials to leave the area.