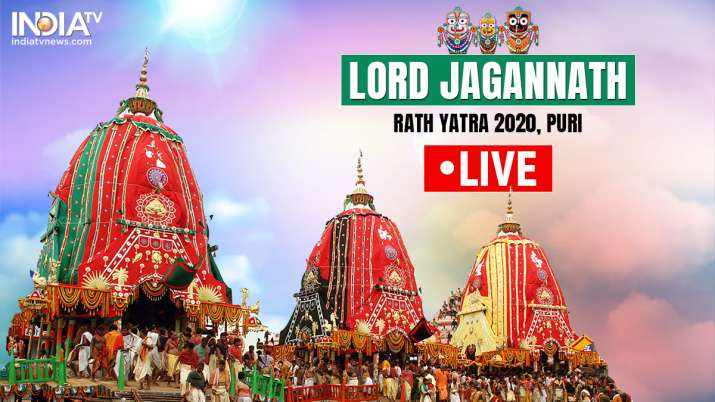 World's biggest chariot festival - Lord Jagannath Rath Yatra - was held in Puri, Odisha under guidelines set by the Supreme Court of India. The deities of Lord Jagannath (also referred to as Bhagwan Vishnu), Balabhadra (his brother) and Subhadra (his sister) travelled on a chariot for a nine-day sojourn to Gundicha temple.
Tuesday's Rath Yatra was made possible after the Supreme Court removed its stay on the age-old yatra considered sacred by Hindus. Following the top court's order,  Puri district authorities, Shri Jagannath Temple priests and servitors, civic authorities, officials from the Naveen Patnaik government in Odisha made a late night dash to ensure the Supreme Court guidelines were followed. Over 50 platoons of police force (one platoon has 30 personnel) had been deployed and CCTVs installed at various locations as part of the security arrangement for the nine-day festival, officials said, adding, all entry points to Puri were sealed.
Puri Jagannath Rath Yatra 2020 | As it happened:
5:45 PM: Odisha Chief Minister Naveen Patnaik watches the Rath-pulling ceremony from his office. This is the first time Patnaik has not been presengt at the ceremony since the year 2000. This year, Coronavirus pandemic has loomed large on the Jagannath Puri Rath Yatra.
5:30 PM: Lord Jagannath Rath Yatra begins.
2.28 PM: Nandighosa, Lord Jagannath's Rath, Taladhwaja - Balbhadra's chariot and  Devadalana - Goddess Subhadra's chariot are set to begin its journey to Gundicha Temple in Puri. The chariots will be pulled by servitors with full social distancing guidelines in place. Shri Mandir premises in all set for Bhagwan Vishnu's trip to Gundicha Temple via Mausi Ma Mandir. Shri Mandir Temple premises is now filled with Jai Jagannath chants ahead of Bhagwan Vishnu's yatra.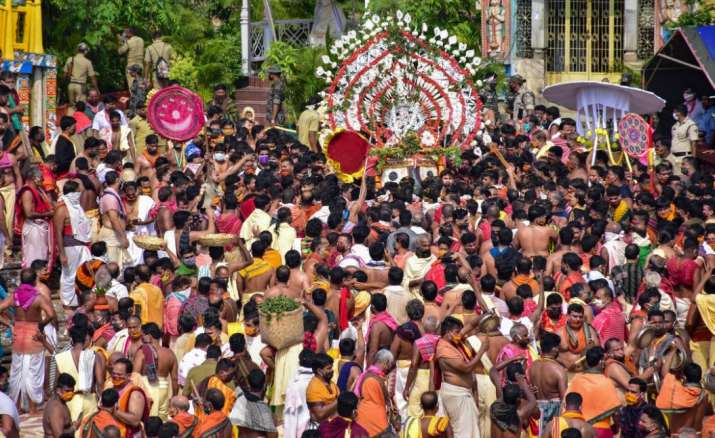 12.00 PM:  Gajapati Maharaj Dibyasingha is leading Chhera pahara, the ceremony in which he sweeps Lord Jagannath's chariot Nandighosa, Balbhadra chariot Taladhwaja and Goddess Subhadra Devadalana. Sound of gongs can be heard loud in the temple premises. The chariot pulling will begin at 12.30 pm after the Chhera Pahara. Folk artists and priests are performing a dance art in front of the Lord Shri Jagannath, who is seated on his chariot at the moment.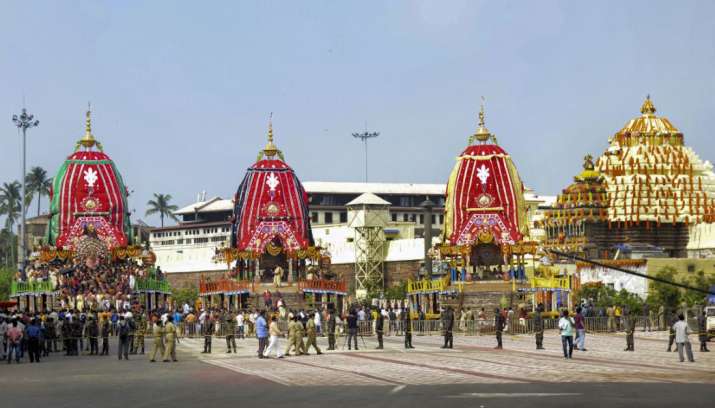 10.13 AM: Puri's Shankaracharya Jagatguru Swami Nischalananda Saraswati has now reached the chariot of Lord Jagannath to perform the rituals ahead of Gajapati Maharaj's Chhera Pahara. The Maharaj will be sweeping the floor of Lord Jagannath Rath. 
9.48 AM: Priests and servitors at Shri Jagannath Temple have brought Lord Jagannath, Balabhadra (brother) and Subhadra (sister) in the chariots after performing the Pahandi Vijay puja in the temple. The Sudarshan chakra, lord Vishnu's weapon, has also been placed at the on the chariot. The three chariots are now ready. The deities of Lord Hanuman, considered Lord Vishnu's most devoted, has been placed at his side in the chariot. The stage is now set for the most awaited - chhera pahara - a ceremony where Gajapati King wears the outfit of a sweeper and sweeps all around the deities and chariots in the Chera Pahara (sweeping with water) ritual.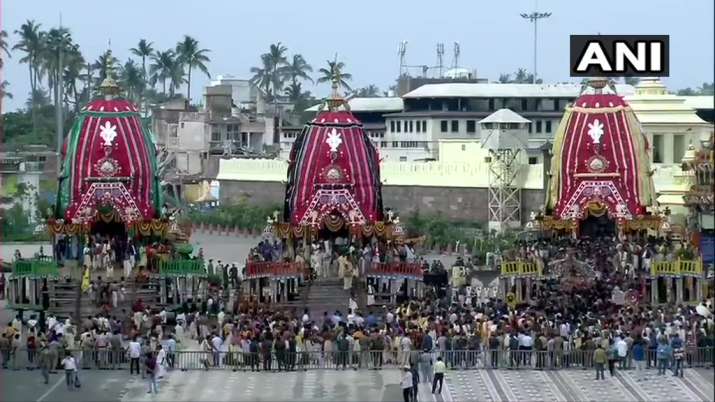 9.43 AM: Jagannath Puri Rath Yatra: The story
Jagannath Puri Rath Yatra marks Lord Jagannath's annual visit to Gundicha Temple via Mausi Maa Temple (maternal aunt's home) near Saradha Bali, Puri. As part of Ratha Yatra, the deities Lord Jagannath, his elder brother Lord Balabhadra and younger sister Devi Subhadra, along with Sudarshan, are taken out in a procession out of the main shrine of Jagannath Temple and placed in the Ratha (Chariot) which are ready in front of the Temple. This process is called as 'Pahandi'. 
9.28 AM: Did you know how Rath Yatra (RathJatra) originated? 
Rathajatra (Rath Yatra) is a journey in a chariot (rath) accompanied by the public. Rath Yatra is a procession (journey) of deities. The term - Rathjatra - appears in medieval texts of India such as the Puranas, which mention the Rathajatra of Surya (Sun god), of Devi (Mother goddess), and of Vishnu. Normally, Lord Jagannath Rath Yatra is celebrated by lakhs of devotees accompanying the chariot on its journey to the sanctum sanctorum of Gundicha temple. This year, due to the coronavirus pandemic, the annual rath yatra is taking place without the devotees.
Ratha-jatra is derived two Sanskrit words, Ratha which means chariot or carriage, and jātrā (yatra) which means journey or pilgrimage.
8.45 AM: Lord Jagannath is being brought to the chariot with priests performing rituals. Lord Jagannath will travel to the Gudicha temple from the Shri Jagannath Temple premises on a 45-feet high Rath pulled by servitors. The Ratha-Jatra is also termed as the Shri Gundicha jatra.
8.10 AM: International Sand Artist & Padma Shri Awardee Sudarsan Patnaik has this wonderful art for Lord Jagannath at the Puri beach. "Jai Jagannath! May Lord Jagannath bless all on the auspicious occasion of #RathYatra .Mahaprabhu bless all with good heath, joy and prosperity. 
My SandArt at #Puri beach in Odisha," Patnaikl tweeted with photo of his art work. 
Jai Jagannath! May Lord Jagannath bless all on the auspicious occasion of #RathYatra .Mahaprabhu bless all with good heath, joy and prosperity.
My SandArt at #Puri beach in Odisha . pic.twitter.com/TZb6N5y7F8

— Sudarsan Pattnaik (@sudarsansand) June 23, 2020
8.00 AM: Where can you watch Annual Lord Jagannath Rath Yatra 2020 Live Stream?
India's national broadcaster Doordarshan (DD) is streaming Puri's Jagannath Rath Yatra 2020 LIVE on its DD Odia YouTube handle. You can also follow the LIVE Updates from Rath Yatra by following this LIVE BLOG and India TV's Twitter handle @indiatvnews. 
7.57 AM: The chariots are built every year by thousands of artisans and workers using a special wood from a particular type of trees. Lord Jagannath's chariot is approximately 45 feet high and 35 feet square and it takes about two months to construct and has 16 wheels. 
Schedule of Rath Yatra
'Mangala Aarati' ritual of the Holy Trinity was performed at 3 am followed by 'Mailama' and 'Tadapa Lagi' at the temple.
'Abakasha' ritual of the deities performed at 4.30 am.
'Gopal Ballava' and 'Sakala Dhoopa' performed at 5:30 am to 6:45 am.
The 'Ratha Pratishta' ritual will be observed at 6:45 am.
The 'Pahandi ritual' (procession) will begin at 7 am.
The sibling deities will board the chariots at the Singha Dwara facing towards the Gundicha Temple by 10 am.
'Madan Mohan Bije' will be held from 10 am to 10.30 am.
'Chita Lagi' of the deities will begin at 10.30 am and conclude at 11 am.
'Chherapahara', a major ritual of the annual festival, will be held at 11.30 am.
Pulling of the three chariots will begin at noon.
'Chhera Panhara' will be between 11.30 am and 12.15 pm. Servitors will attach horses and charioteers to the three chariots in this time.
Important Guidelines for the Rath Yatra
Each Ratha (Chariot) shall be pulled by not more than 500 persons.
There shall be an interval of one hour between two chariots.
All entry points into the city of Puri, i.e., airports, railways stations, bus stands etc. shall be closed during the period of Rath Yatra festival.
Everyone who will be involved in the rituals will have to be tested for COVID-19.
State Govt shall maintain record containing details of all those who have been allowed to participate in the Rath Yatra or the rituals connected therewith along with details of medical conditions after testing.
ALSO READ | Shutdown in Puri from 9 pm till 2 pm today in view of Lord Jagannath Rath Yatra
ALSO READ | SC gives nod to Puri Rath Yatra under strict conditions, says no compromise on health issues