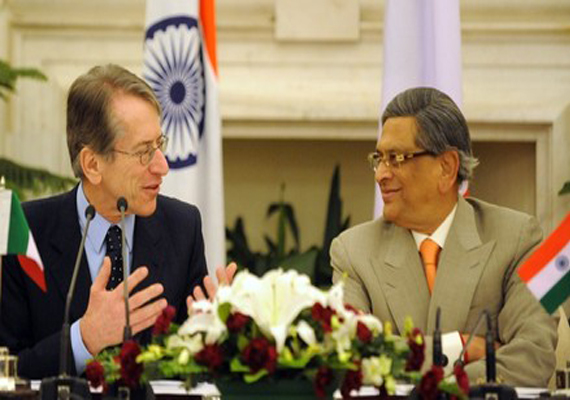 New Delhi, Febr 28: India and Italy on Tuesday failed to resolve their difference over the trial of two Italian marines for killing two fishermen despite talks between their foreign ministers here.

Meeting in the backdrop of the "unfortunate" incident, External Affairs Minister S.M. Krishna and his Italian counterpart Giulio Terzi di Sant' Agata discussed the on-going investigations in the case but continued to have difference of opinion on the jurisdiction and legal aspects of the incident.

Asserting that there was "differences of opinion" between India and his country over the incident, Mr. Terzi categorically said, "I have explained frankly the position of my government on the legal aspect of this issue.... There is a difference of opinion which is not resolved", while favouring their trial under international laws.

The two ministers also tried to "clear the air" over the February 15 killing which has led to the detention of two Italian marines in Kochi.

"We met in the backdrop of unfortunate incident... There is a very strong public opinion on both sides. Minister Terzi and I agreed that we need to clear the air so that people in both countries are reassured...," Mr. Krishna told a joint media event with the Italian Minister.

Though the visit was pre-scheduled, the incident is dominating the stay of Mr. Terzi, who is also travelling to Kochi where he will meet the two Italian Mariners detained for the killing.
"We hope to pursue the matter in a friendly spirit, understanding and cooperation," Mr. Terzi said.

Conveying Italy's and its people's condolences to India and the families of fishermen killed, Mr. Terzi said the "unfortunate" incident took place due to the threat of piracy in the Indian Ocean region.

"Our sailor men in Kochi have been the victims of the same reason that caused the death of two Indian fishermen, the threat of piracy," he said.