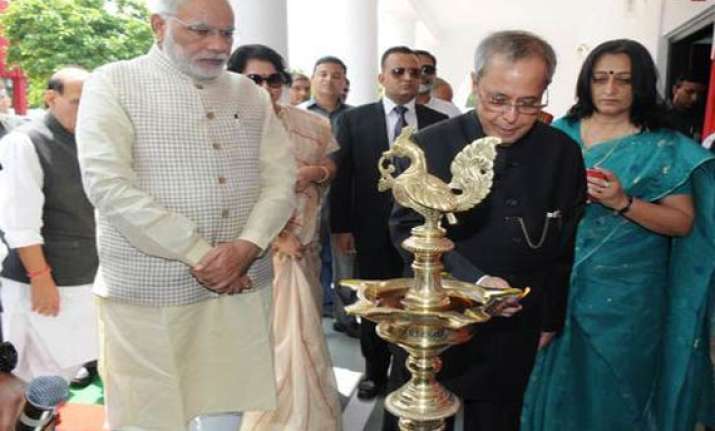 New Delhi: Prime Minister Narendra Modi today stressed on India becoming history-conscious saying only such countries have a potential to create history.
Speaking extempore at a book release function at the Rashtrapati Bhavan here this evening, Modi lauded the attempts of President Pranab Mukherjee and his team in restoring the old heritage and historical facts about the palace.
"We are not that history-conscious society and always believe in hearsay. The country which forgets its history also loses its ability to create history," Modi said.
Referring to the museum in the Rashtrapati Bhavan, the Prime Minister said India very often is not a history-conscious society and this museum was "an effort to preserve a part of our unique heritage".
He referred to the President as the guiding force who gave the right advice to him like a head of the family. "Like head of the family, he has been guiding me, who is new in the family," Modi said.
Earlier he released two books—"Winged Wonders of Rashtrapati Bhavan" written by Thomas Mathew, Additional Secretary to the President, and "Indradhanush", a compendium of music, dance and cinematic events organized at Rashtrapati Bhavan since August 2012.
Complimenting the authors, he said their efforts were not mere compilations but creations borne out of their personal experiences.