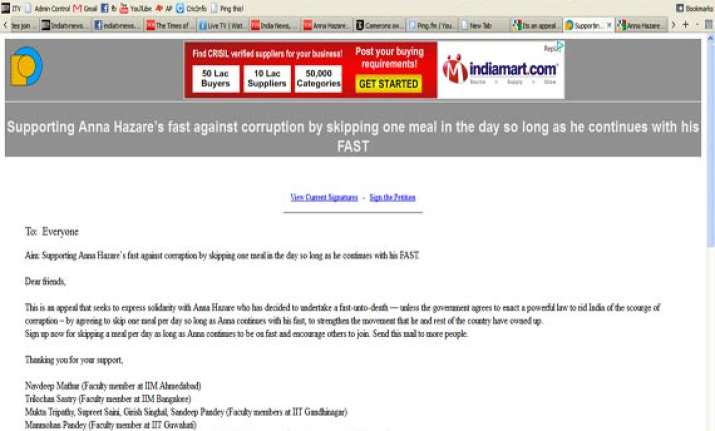 Ahmedabad, Aug 20  :  Faculty as well as students of premier educational institutes like IITs and IIMs have launched an online petition on the web to garner support for anti-corruption crusader Anna Hazare as his indefinite fast for the Jan-Lokpal Bill entered the fifth day today. 
The 1,322-signatories to the petition and counting includes faculty of IIM-Ahmedabad, IIM-Bangalore, IIT-Kanpur, IIT-Gandhinagar and IIT-Guwahati. This petition seeks support to the Gandhian by skipping one meal in the day so long as he (Anna) continues with his fast.

It has also been signed by the students of IITs and IIMs, and is gradually getting popular.

"We have been instructed by the institution not to openly come in favour of the movement, but a lot of support is being garnered in favour of Anna at the institutes at individual level, where faculty and students have signied up this online petition," a faculty member of IIM-A who is amongst co-creators of the petition said, preferring anonymity. 
Names of four faculty members from IIT-Gandhinagar figures on the portal, who have appealed people to lend support for Anna, and also thank them for joining the online campaign.

The comment of Dr Sachin D Kore, a faculty of IIT-Guwahati on the portal reads "I support Anna's fast against corruption."

Sreejith P, has posted 'Support from IIT-Madras, on the portal.

The petition, hosted as www.PetitionOnline.com as a public service on the web, is created by both the faculty and students of IIMs and IITs.

The petition draft reads, "Its an appeal that seeks to express solidarity with Anna Hazare who has decided to undertake a fast unto death unless the government agrees to enact a powerful law to rid India of the scourge of corruption."

Protest were even organised at the IIM-A campus here in support of Anna Hazare on Thursday last. Students had taken out a candle light rally and had skipped meals for one time on that day.

Mumbai: Hundreds of supporters of anti-corruption crusader Anna Hazare today boarded a suburban train to create awareness among the commuters about Jan Lokpal Bill for which the Gandhian is on a fast since the last five days.  The volunteers from India Against Corruption (IAC), an umbrella body spearheading the Hazare-led agitation, came out with the novel idea.

"We are calling the train 'Lokpal Express'. Our aim is to educate people about the Bill. We formed groups of at least 4-5 people who entered every compartment of the train. We started with 200 people later the number of supporters went up to 600," Mannan Gandhi, an IAC member, told PTI.  The volunteers boarded the 10.57 am Churchgate local train from Borivali, a western suburb, to spread their message.

The Railway was caught unawares by the drive. "We were not informed about the plan," Western Railway PRO C David said.

Port Blair: Students of the Jawaharlal Nehru Rajkeeya Mahavidyalaya, a government college here today organised a rally in support of Anna Hazare and his campaign for a corruption free India.

A large number of students gathered at college main gate and marched in a peace procession.

The student's union leader Gyan Sharma talking to reporters alleged that the government was trying to strangle a mass movement against corruption which has become prevalent in all sections of the society.

In the other islands of the union territory of Andaman and Nicobar Islands candle light march and processions are being held in support of Anna Hazare's movement. PTI