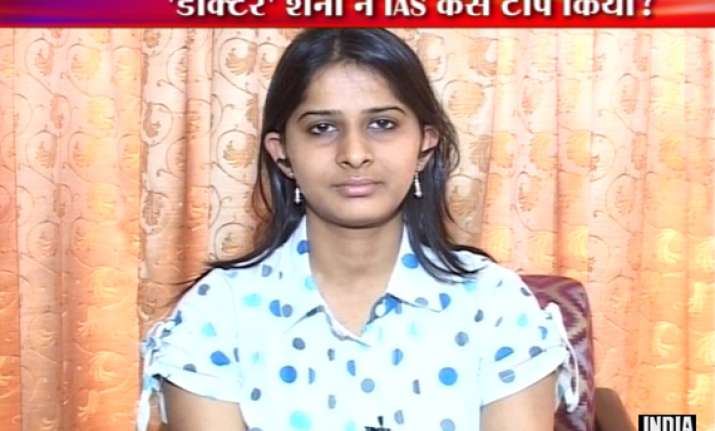 New Delhi, May 5:  This year's IAS topper Shena Agrawal said today she never kept note of the number of hours she spent on her studies while preparing for the Civil Services examination, and in course of her preparations she got full cooperation from her family.
Appearing live on India TV, Shena Agrawal said, one should be focused while preparing for the Civil Services.  
Asked about her favourite musician, Shena named A R Rahman's music.  
Hailing from Yamunanagar, Haryana, Shena did her MBBS from AIIMS and then plunged into preparations for the Civil Services.  
Rukmini Riar from Hoshiarpur, Punjab stood second in the Civil Services exam. Her parents are overjoyed after her selection.  
2,43,003 candidates appeared in the CIvil Services preliminary exam in June last year. Out of them, 11,984 candidates were asked to appear in the CIvil Services Main exam in Oct-Nov last year.  2,417 candidates made it to the interview in March-April this year, and out of them, 910 candidates finally made it to the Civil Services.  
Hrishika Singh from Ranchi stood eighth. She stood 638th last year but made up her mind to give a second attempt and came out with flying colours.  
Prince Dhawan from IIT Delhi stood third this year. He hails from Chandigarh, and made up his mind to join the Civil Services, despite his engineering education.