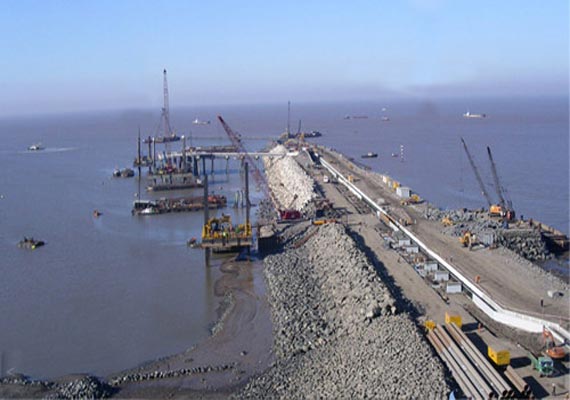 Ahmedabad:  Hazira Port Pvt Ltd's (HPPL) proposal to double LNG terminal capacity to 10 MMTPA has been recommended to MoEF for clearance by the Gujarat Coastal Zone Management Authority (GZMA), officials said.
HPPL, is a joint venture between Shell Gas BV-(Shell) and Total Gaz Electricite Holdings France-(Total). Shell holds 74 per cent in the JV.
The proposal has been recommended to the Ministry of Environment and Forests (MoEF) to grant Coastal Regulatory Zone (CRZ) clearance for proposed augmentation of existing capacity of LNG terminal from 5 MMTPA to 10 MMTPA by Hazira LNG Terminal Pvt Ltd at Hazira, in Surat district, GZMA document reads.
"The capacity of 3.6 million tonnes terminal at Hazira in Gujarat, was earlier expanded to 5 million tonnes.
But due to the growing demand of natural gas in the country it is proposed to be expanded upto 10 MMTPA," industry sources said.  
"The need for augmenting LNG terminal capacity is because domestic natural gas production of close to 144 million standard cubic meters per day is meeting just half of the demand," they said.
The demand for gas is projected to grow exponentially in future.
State-owned Gujarat State Petroleum Corporation Ltd (GSPC) is expected to begin producing gas from its Deen Dayal West (DDW) gas field in block KG-OSN-2001/3 by third quarter of 2013. It is expected to produce a maximum of 5.24 million standard cubic meters per day of gas from the offshore DDW gas field.
The gas will land at Mallavaram, near Kakinada in Andhra Pradesh and can be ferried to customers up to Gujarat through Reliance Gas Transportation Infrastructure Ltd's East-West pipeline.
Operational since April 2005 with an estimated investment of over Rs 3,000 crore, Hazira LNG Terminal and Port is among the largest international greenfield investments in India.