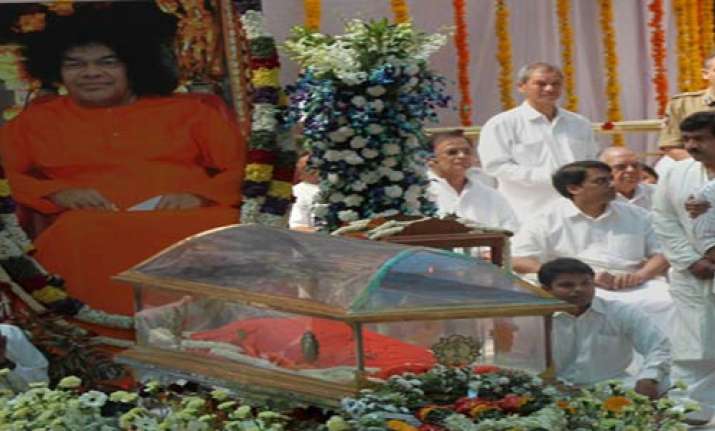 Puttaparthi, Apr 28: The freezer box in which the mortal remains of Sri Sathya Sai Baba was kept for public view was reportedly ordered on April 4, the Times of India reported.
 
Sathya Sai Baba passed away to eternity on on April 24. But on a day when he was laid to rest, a fresh controversy sprung out of the grave to haunt those who allegedly ordered the freezer box as early as April 4 — his condition had officially worsened only on April 15 after being admitted on March 28. .

While it is not uncommon to order a freezer box in advance, the response of the Central Trust members as well as the district administration that they have no information on it has, in fact, led to many doubting the reported date of his death, says the TOI report.




The controversy  began  on Wednesday after a firm making freezer boxes claimed the one in which the 'godman' was kept as its own and said it was ordered on April 4.

The order was placed by Rajendranath Reddy of Bangalore to the Malleswaram (Bangalore) branch of Coimbatore-based Kumar and Co. International. The cost of the glass freezer was quoted at Rs 1.07 lakh and an advance of Rs 57,000 was paid by cheque to the company on April 4.

"The box was transported from Coimbatore to Ulsoor in Bangalore on April 4 and reached Puttaparthi on April 5," said Vishwanath, a staff in Kumar and Co.

The connection of Rajendranath Reddy with Sathya Sai Central Trust still a mystery. However, according to sources, the powerful Sri Sathya Sai Central Trust had a role in ordering the freezer box.

Lakshmi, the owner of Kumar and Co International company, told the media on Wednesday that she recognised the freezer box as made by her firm after seeing it on TV.

"We did not know it was meant for Sai Baba," she said. According to Lakshmi, her colleague Ganesh called Rajendranath to confirm this. "He confirmed the same and told Ganesh not to discuss the matter with anyone," Lakshmi said.

While Trust member S S Naganand said that the freezer box was arranged by the godman's family, another member ex-justice P N Bhagwati said: "I am not aware when the freezer box was ordered or brought to Puttaparthi. I also have no information as to who ordered it and when. Anantapur district collector B Janardhan Reddy also said that they had no information on the freezer box.