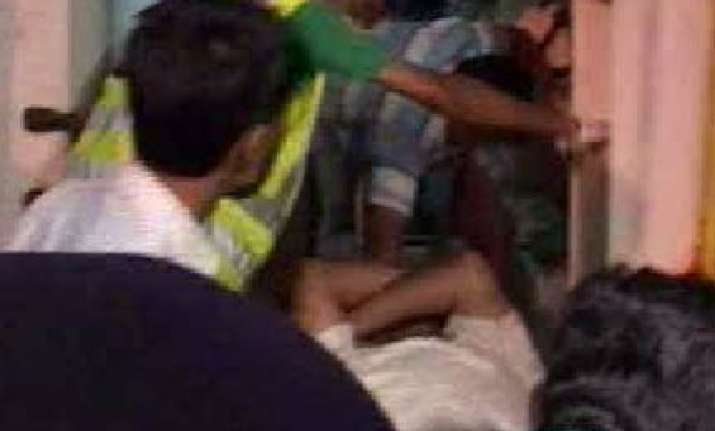 Mumbai :  Panic gripped a Chennai-bound Jet Airways flight carrying 153 passengers after a fire alarm in the cockpit went off when the plane was on the taxiway for takeoff on Friday night and 30 of them were injured during evacuation by emergency chutes.
As there was a sudden surge of passengers when they were being evacuated using chutes, 30 of them received injuries and bruises with three of them suffering fractures, a Mumbai International Airport Limited(MIAL) spokesperson told PTI.
There were some reports that a few passengers jumped from the aircraft and sustained injuries while there was a chaos when passengers rushed to slide down the chutes.
Fifteen persons were taken to Nanavati hospital in ambulances for further treatment after receiving first aid at the airport. Some of them were reported to have suffered multiple fractures.
A full emergency was declared at the Mumbai Airport and Fire Tenders were rushed immediately to the spot.
A Jet statement said the airplane commander proceeded to declare a precautionary emergency although there were no visible traces of fire.
"The commander onboard Jet Airways flight 9W 2302 Mumbai-Chennai was informed of an indication of an LH engine fire. Although there was no visible trace of a fire, the commander proceeded to declare a precautionary emergency," the statement said.
All passengers were deplaned safely and a thorough inspection of the engine was carried out, it added.
The captain deployed chutes for emergency evacuation, a Jet spokesperson said, adding all passengers have been evacuated.
117 passengers were sent to Chennai by Jet Airways by alternative flight. 15 passengers are injured, out of which eight have been taken to Nanavati Hospital and two to Sujoy Hospital. The remaining passengers were sent to Chennai on Saturday morning.