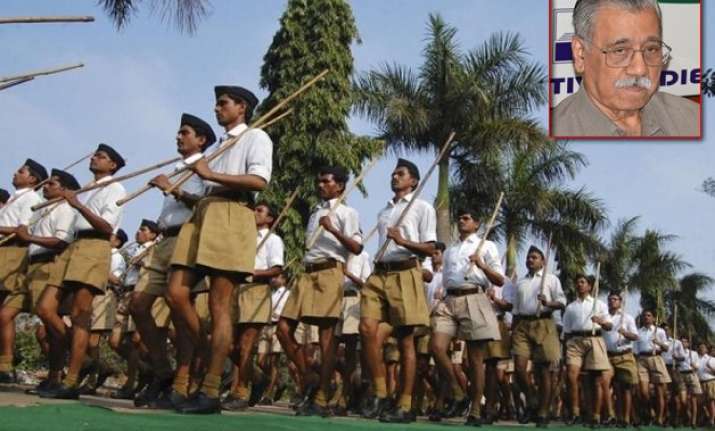 Ahmedabad: In a veiled attack on the Rashtriya Swayamsewak Sangh (RSS), former Chief Justice of India A M Ahmadi asked Muslims to not vote under "intimidation" of those who wear half-pants and carry lathis", the conventional dress code of the organisation.
"Do not get frightened from those who come out on roads wearing half-pants and carrying lathis in their hands. They come out during elections only to inject fear among people. It is part of the election process," Ahmadi said yesterday without taking name of RSS while addressing a function organised by state Congress here in the Muslim-dominated Sarkhej on the outskirts of the city.
Ahmadi requested Muslims not to vote out of fear.
"After elections get over, they disappear. But, in between that election process do not get intimidated by them. It will be a problem if you give your vote out of fear," said Ahmadi who had served as CJI from October 1994 till March 1997.
Congress president Sonia Gandhi's political secretary Ahmed Patel and state unit Congress president Bharatsinh Solanki were present during the function.
Speaking to reporters on the sidelines of the event, Patel slammed the BJP-ruled state government on the issue of education and employment opportunities.
"The focus should be on quality of education. Setting up new factories and schools is not a solution. Government needs to focus on filling up vacant posts of teachers. In Gujarat, there is not a single teacher in 60 schools while there is only one teacher each in more than 800 schools," he alleged.
On Lok Sabha Speaker Sumitra Mahajan's statement yesterday that Parliament keeps on extending the reservations for another ten years despite Babasaheb Ambedkar initially putting the cap on quota for ten years, Patel said it was the prerogative of Parliament to review the reservation system and give extension if needed.
"Parliament, that is Lok Sabha and Rajya Sabha, regularly review this decision (reservation) and grant extensions. There cannot be any other review. There is no institution superior than the Parliament," he added.