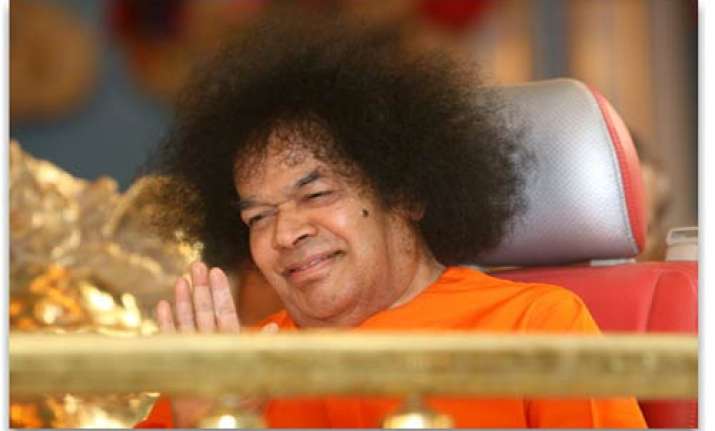 Puttaparthi, Apr 25 : Lakhs of devotees from home and abroad today poured into this town to have a last glimpse of Sathya Sai Baba whose body has been kept in a hall here even as police tightened security for crowd control.  With grief writ large on their faces, the devotees, both young and old, made their way to the Sai Kulwant Hall at Prashanti Nilayam Ashram to have a darshan of the 85-year-old Sai Baba's mortal remains.

Union ministers Vilasrao Deshmukh and Praful Patel and cricket maestro Sachin Tendulkar along with wife Anjali were among those who paid their last respects to the Sai Baba who died yesterday after battling serious illness for nearly a month.

The body will lie in state at the hall till tomorrow to enable devotees pay their last respects. Sai Baba will be buried at the Sai Kulwant Hall on Wednesday in line with the practice adopted for spiritual leaders in India, contrary to the Hindu custom of cremating bodies.  Police have set up barricades all over the town to control the surge of devotees flocking the area.  DIG (Rayalaseema range) Charu Sinha said, "We have put up the barricades for the convenience of devotees. We have been told to ensure that devotees manage to have last darshan of Sai Baba. Traffic restrictions have also been imposed for the convenience of the devotees".

Anantpur District Collector Janardhan Reddy said food and water have been made available to the devotees who have arrived from near and far.

Foreign devotees also flocked the Ashram to pay their last respect to Baba. "I feel sad as Baba is no more with us.  However, he is in my heart and he is everywhere...," a foreigner said.

A devotee from Karnataka said, "Baba has not gone anywhere. He will soon come back in a new avatar".  An elderly couple from Orissa said despite his sudden death, they are sure that the Baba will again appear before them soon.

Expecting a large number of devotees to converge here,police have made elaborate arrangements at the Puttaparthi airstrip and railway station. Two temporary helipads have been constructed to allow VIP landings.
Congress leader Rahul Gandhi today condoled the death of Sathya Sai Baba, saying he was a beacon of light and taught the religion of love. 

Gandhi said the great teacher's life "presents us all with an example of love and service for all, especially for the youth."

"Sri Sathya Sai Baba was a beacon of light for millions in India and around the world. As a great teacher, he taught the religion of love, the caste of humanity and the language of the heart. As a social worker, his work in the areas of education, healthcare and drinking water was of an unprecedented scale and quality.

"His life presents us all with an example of love and service for all, especially for the youth. Today, the nation and Sri Sathya Sai Baba's devotees around the globe mourn his loss deeply," he said. PTI