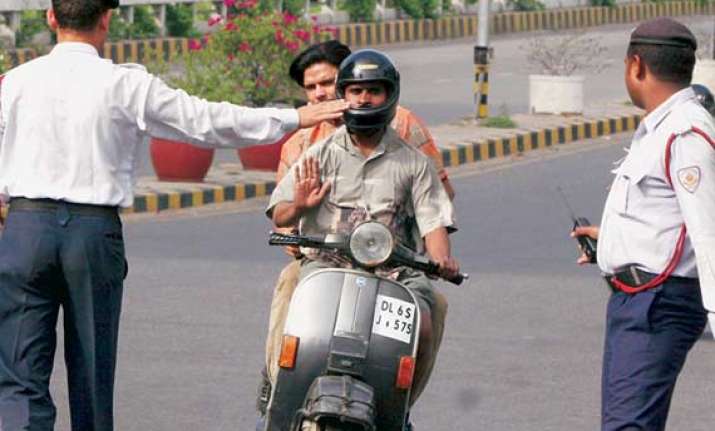 New Delhi: Over 800 people were prosecuted by the Delhi Traffic Police in a special drive last night for violating traffic rules, which included 247 drunk drivers.
During the inspection, which was held between 7 PM to midnight last, 247 drivers were prosecuted and 180 vehicles were impounded for drunken driving. 44 vehicle owners were also prosecuted for allowing their vehicles to be driven by drunk drivers.
Police said that out of 180 vehicles which were impounded for drunken driving, 11 were LGVs, 126 were cars, 103 were two wheelers, four were TSRs, six were delivery vans and seven were other vehicles.
It was ensured that all violators are being provided with fresh blow pipe while conducting breath test, police said.
"Violators involved in drunken driving and permit violations are directed to report for counseling session at Traffic Police Headquarters located at Dev Prakash Shastri Marg, Pusa, New Delhi where they attend educational lectures and are shown short films on harmful effects of drunken driving," Anil Shukla, Joint Commissioner of Police (Traffic) said.
The drive was held at vulnerable points with sufficient numbers of alcometers for taking intensive prosecution action against drunk drivers and other major traffic violations such as dangerous driving, red light jumping, permit violations, 'No Entry' violations, etc.
Police said 259 violators were prosecuted for dangerous driving, 73 for red light jumping, 47 for permit violations, 50 for 'No entry' violations and 28 for commercial vehicles not fitted with rear or lateral under run protection devices.
Apart from this, errant drivers were also asked to sign a pledge that they would not indulge in drunken driving in the future. Educational literatures for safe driving were also distributed during the session.
Vehicles were released to the violators/rightful owners of the vehicle who attended the session and signed the pledge. Till August 15 this year, a total of 20,400 violators have been prosecuted for drunken driving out of which 6,776 violators were arrested and 10,929 vehicles were impounded.