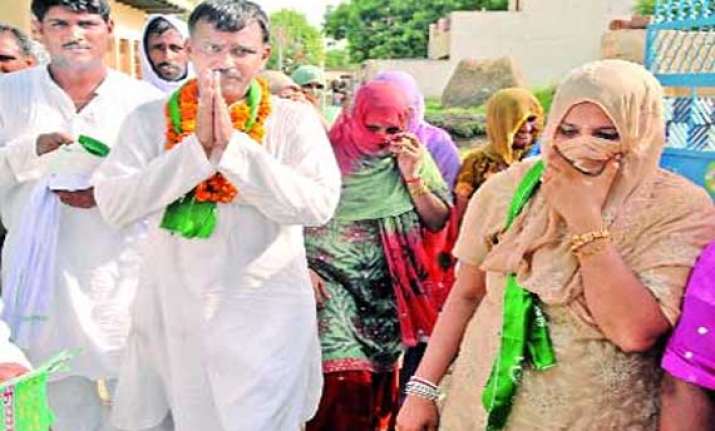 New Delhi, Jun 2: INLD MLA Bharat Singh was shot at this morning in south-west Delhi by "four-five" unknown attackers with police suspecting it to be a case of personal rivalry.
A passerby Dharampal was also injured in the incident which took place near the MLA's office in Najafgarh's Sarangpur village at around 8:30 AM, a senior police official said.
According to the official, four to five people came and opened fire at Singh, the 35-year-old MLA from Najafgarh, who suffered a bullet injury.
Dharampal, a villager who was passing through the area also, was caught in the firing and got injured.  Both were rushed to the hospital and are undergoing treatment.
"We are investigating the matter. No arrests have been made," the official said.
Singh is the brother of MCD councillor Krishan Pahalwan against whom there are several criminal cases.
Though Bharat Singh was elected MLA as an independent, he later joined Om Prakash Chautala's Indian National Lok Dal and became its Delhi state president.  
Bharat Singh's brother is Kishen Pahalwan, a known gangster of the area, who won the recent municipal elections defeating Jai Kishen Sharma of the Congress.  
Kishen Pahalwan has 27 cases of murder registered against him in Delhi and several murder attempt and dacoity cases in Haryana. He once carried a reward of Rs 1 lakh on his head. 
Bharat Singh was shot inside his office in Dichaon Kalan this morning.
Meanwhile, Delhi Chief Minister Sheila Dikshit today discussed the security scenario in the capital with City Police Commissioner B K Gupta in the wake of an MLA, Bharat Singh, being shot at by unidentified assailants and demands from Congress legislators for enhanced personal security.
The meeting was held on the direction of Speaker Yoganand Shastri after MLAs demand police protection citing increased "threat perception" while having to deal with difficult situations in public interest.
Gupta met Dikshit hours after MLA Bharat Singh was shot at by unidentified men at his office in southwest Delhi today.
Yesterday in Delhi Assembly, an extortion call to MLA Jaswant Rana's son had prompted other legislators to seek enhanced protection.
The strong demand by the legislators came after senior MLA Jaswant Rana said in the assembly that his son received a call last week from an unknown person demanding Rs 50 lakh.
Following Rana's demand for adequate security, a number of Congress MLAs also joined him in seeking police protection in the wake of "increased threat perception" and to carry out developmental works "fearlessly".
Dikshit had said security of the MLAs was of "paramount importance" and the incident involving the legislator is being taken up with the police seriously.
As number of Congress MLAs demanded "adequate security" for the legislators, Speaker Yoganand Shastri issued a direction to call Police Commissioner B K Gupta to the House to convey concerns of the MLAs.