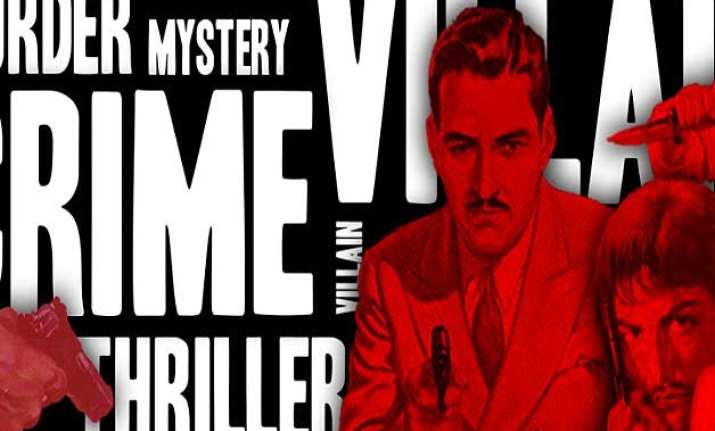 New Delhi:  A team of crime and thriller writers from across the world are poised to examine the art of crime writing and its influence on society through the first edition of Crime Writers Festival that begins here tommorow.  Set to join the writers are a noted scriptwriters and directors who attempt to dissec the genre in visual medium and performing arts.
Begining January 17, the two-day festival, an initiative of the Crime Writer's Forum of South Asia is jointly being produced by literary agency Siyahi, scheduled to be held at the India Habitat Centre as well as the Oxford Bookstore here.  Authors Namita Gokhale and Kishwar Desai are Festival Directors.
"Invasion of cyber crime in fiction as well as violence against women in crime fiction taking on extreme levels are among the subjects that will come up for discussion," says Mita Kapur of Siyahi.
As an entire corporate world struggles to establish a spotless code of ethics, taking into account, the qualms of insider trading, "The Billionaire's Apprentice" author Anita Raghavan in set to be in conversation with Suhel Seth to chart the rise and fall of the 'corporate rock star', Rajat Gupta.  
Authors Rupleena Bose and Piyush Jha are set to peel through layers of reason and logic to understand how to write a hateful, pitied and finally, beloved antihero.  While Norwegian author, Nils Nordberg is slated to discuss the morally complex sub-genre of Scandinavian crime fiction, British writer David Stuart Davies will spill the beans on the mysterious appeal and incredible deductive skills of the world's only consulting detective, Sherlock Holmes.
Surendar Mohan Pathak, who has to his credit nearly 300 thriller titles is lined up to talk about his bestselling tactics and iconic detectives Vimal and Sunil.  With their detectives stumbling their way through investigations, authors Zac O' Yeah, Tarquin Hall, Jane De Suza and Patrick Bryson are scheduled to talk about how they introduce humour into an otherwise serious genre.  
Writer Mahmood Farooqui and Khalid Jawed say they are looking forward to take the audience to a trip into the portentous world of Ibn-e-Safi, the iconic detective thriller writer.
French author Caryl Ferey, whose books end with the death of the hero in each mystery, will talk about the definition of crime in diverse cultures with Amrita Tripathi.  
Dibakar Banerjee, Dhritiman Chaterjee and Rajit Kapur are set to track down Bengal's beloved sleuth, Byomkesh Bakshi while Swedish author, Hakan Nesser shares his experience writing two very different detectives.  Meghnad Desai and Sandeep Unnithan have lined up a session on what makes crime writers steer clear of political crime.  
Ishrat Syed and Kalpana Swaminathan take on medicine, microbes, death and disease in their thriller novels.  Ashwin Sanghi is set to talk about his latest project, Private India, written in collaboration with bestselling author James Patterson. He is also slated to conduct a workshop on detective crime fiction writing.  A musical session presented by NH7 and a crime fiction quiz, 'Qrious Qrimes' and a script writing workshop are some of the other attractions of the festival.