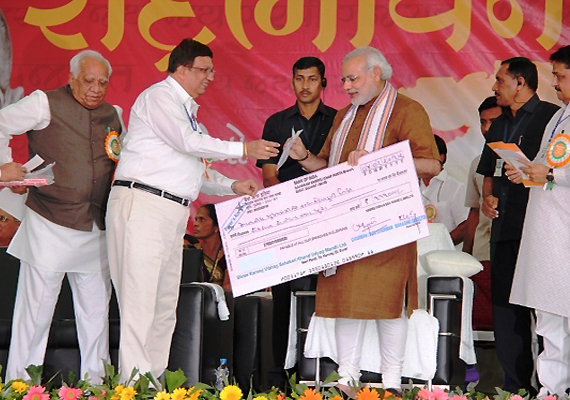 Surat, Feb 8: The Congress in Gujarat has alleged that Hasmukh Magan Gamit, known as Matka King in Bardoli, was on Monday seen on the dais with Gujarat chief minister Narendra Modi during his sadbhavna rally in Bardoli near Surat.

Gamit, known as Hasu Gamit, is a listed gambler in the records of Bardoli police, Congress leaders  said.

The matka king had put up posters and banners of his picture with Modi throughout the town of Bardoli welcoming the chief minister.  He was later seen shaking hands with the chief minister on the dais, Congress leaders said.




Gamit runs several matka 'addas' in and around Bardoli.

Says K N Solanki, police inspector, Bardoli police station: " R.R. Cell of the IG raided a club in Bardoli town a few days ago in which seven persons were nabbed, but the ring leader Hasu Gamit escaped. Police arrested him a few days later and legal proceedings are on. Hasu Gamit is a big gambler."

Gamit is also the BJP corporator in the local Bardoli municipality.  He was released on bail a few days ago.

Congress MP from Bardoli Dr Tushar Chaudhary has alleged that the BJP is giving protection to people with questionable backgrounds.

A few months ago, a big liquor mafia chief was seen with BJP leader L K Advani on the dais during his Jan Chetana Rath yatra in Silvassa.