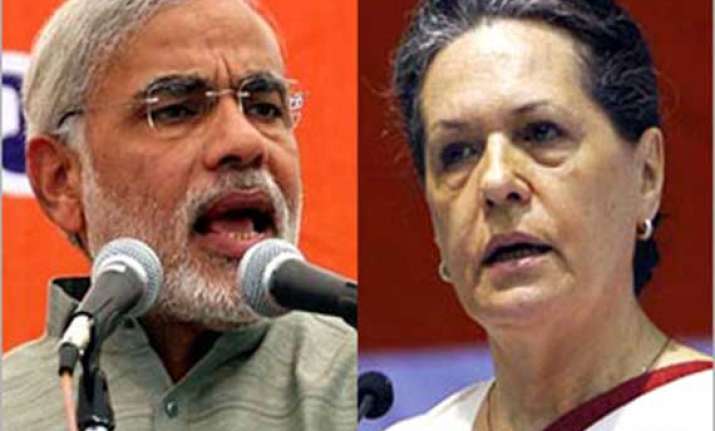 Ambedkar Nagar, UP: Narendra Modi today seemed to thank Sonia Gandhi for her jibes that he considers himself as Prime Minister, saying "aap ke muh mein ghee-shakkar", a remark suggesting she has already predicted his victory.
"Sonia says that Modi considers himself as PM. So what should I say. Madam Soniaji what should I say on this. When you have said this that Modi sees himself as PM then there is a saying that 'aap ke muh mein ghee-shakkar' (May your words come true)", he said.
Slamming Congress for criticising his 'Ye Dil Mange More' remark at a rally in Himachal, Modi said, "Ek garib ma ka beta maange ga nahin to kya karega" (What else can a poor woman's son do but to beg).
"I said that 'Ye Dil Mange More'. Give more votes for the lotus (BJP symbol). But Sonia Gandhi did not like it. They may be ashamed of asking (votes), but I am not ashamed of asking," he said at an election rally here.
Modi said earlier Sonia Gandhi and her son and Congress vice-president Rahul Gandhi were not taking his name while addressing public rallies.
"But they are now forced to take Modi's name as the whole country keeps uttering Modi's name," he said.