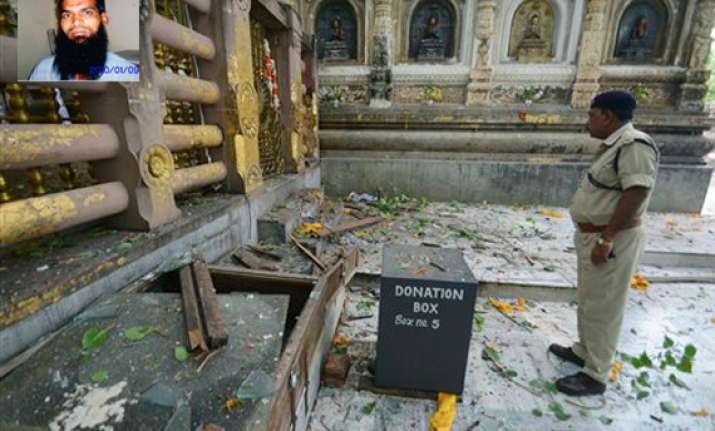 New Delhi, July 7: AnIndian Mujahideen militant Syed Maqbool had told Delhi Police Special cell way back in October  last year that they planned to target the Mahabodhi temple and other major Buddhist shrines. Syed Maqbool belongs to Maharashtra's Nanded district and is a close associate of underground IM leadr Yasin Bhatkal.
Maqbool had told Delhi Police that Bhatkal had a plan to target Buddhist shrines in India to extract revenge for the killings of Rohingya Muslims in Myanmar.
Delhi Police special cell had then given detailed info about the Bodh Gaya plan to Home Ministry, which in turn, had passed it on to Bihar police.
A team from Gaya police had then visited Delhi and discussed about this info. The district magistrate of Gaya, who is the president of Bodh Gaya temple management committee, had then promised to instal cctv cameras at the shrine and in neighbouring localities.
Home Ministry today asked Bihar police why no concrete action to safeguard the major Buddhist shrine was not taken despite issuing three alerts within a month.
Delhi Police had arrested an Indian Mujahideen module in connection with Pune serial blasts in August last year, based on which one IM militant Syed Maqbool was arrested on October 25.
Here is what Delhi Police speciall cell had told media at that time:
"The Special Cell, Delhi Police had busted an Indian Mujahideen Module with the arrest of four persons, namely, Asad Khan (aged 33 years) r/o Tawakkal Nagar, Naigaon, Distt. Aurangabad, Maharashtra, Imran Khan (aged 31 years) r/o Peer, Bhurahan Nagar near Masjid-e-Saalehind, Nanded, Maharashtra, Sayed Feroz @ Hamza (aged 38 years) r/o Shukarwarpath, Pune, Maharashtra and Landge Irfan Mustafa (aged 30 years) s/o Landge Mustafa Usman r/o Raj Nagar Dargah, Darya Road, Mukund Nagar, Ahmed Nagar, Maharashtra and explosives, detonators and other incriminating material had been recovered. With their arrest the serial blasts of 1stAugust, 2012 were worked out. 
"Sustained interrogation of the accused arrested by us revealed that a person, namely, Sayed Maqbool @ Zuber, S/o Syed Haji, R/o Samtam Nagar, Near Madina Masjid, Dharmabad, Nanded, Maharashtra was in close association with them and together they planned to commit fiyadeen attacks on the Buddhist shrines in Bodh Gaya in Bihar as retaliation to the alleged atrocities being committed upon Muslims in Myanmar.
"Their plan had the approval and support of the Bhatkal brothers. Sayed Maqbool was arrested after great deal of efforts on 23rd October 2012 from Hyderabad where he had been hiding to evade his arrest. 
" Maqbool came in contact with Imran through a common friend. The latter introduced Maqbool to Asad and Irfan.  
"Maqbool taught them how to make a bomb by using urea, diesel and fire cracker powder at Asad's farmhouse in Aurangabad. In April 2012, Imran introduced Maqbool to the Bhatkal brothers.
"Before the Pune serial blasts of 1st August, Maqbool, Irfan, Imran and Asad had discussed their plan of carrying out a fidayeen attack on Buddhist shrines at Bodh Gaya, Bihar. Since Bhatkals wanted to avenge the death of Qateel Siddiqui, they decided to carry out bomb blasts at Pune first.  
" About a month before Ramzan in 2012, Maqbool helped Imran in doing a recce of Dilkhush Nagar, Begum Bazar and Abids in Hyderabad on a motorcycle. This was done on the instruction of Riyaz Bhatkal...
" Maqbool began his criminal career along with one Azam Gauri @ Aleem r/o Warangal, Andra Pradesh (killed in a police encounter in 2000).
"His first criminal act was the murder of Krishna Moorthy (FIR No. 220/1999, u/ss. 302/120-B/34 IPC read with sec. 25/27 Arms Act, PS Bodhan, District Nizamabad in which he has been convicted for life. However, he was released from jail in October 2009 after commutation of his sentence. 
"His next criminal act was the murder of one Devender (Case FIR No. 195/1999, u/ss. 302/120-B/34 IPC read with ss. 25/27 Arms Act, PS CID, Andhra Pradesh), who had allegedly encroached on a Masjid land in Uppal, A.P. 
" Maqbool was also involved in the murder of Mahaveer Prasad (Case FIR No. 172/2000, u/ss. 302/34 read with s. 6 Explosive Substances Act, PS Afzal Ganj, Hyderabad City), a jeweller.  Here the motive was robbery. 
"Maqbool was instrumental in the formation of IMMM (Indian Muslim Mohammadin Mujahidin; a terrorist organization) at village Mancharia in 1999 alongwith Azam Gauri and Roshan Baig.
" They worked under the garb of social reformists by showing that their objectives were – 
(1) To stop dowry system in society. 
(2) To fight against corruption and 
(3) To stop pornographic films. 
"Azam Gauri had taught Maqbool how to prepare IEDs so that they can cause blasts in those theatres where blue films were being shown. 
"Maqbool alongwith others were involved in the following bomb blast cases: 
 Bomb blast at Kaketiya Hotel, Lal Darwaza (FIR No. 01/2000, u/ss. 4/5 Explosive Substances Act, PS Moghalpura, District Hyderabad City) 
 Blast at Sharda theatre  (FIR No. 28/2000, u/ss. 307/120-B IPC read with ss. 3/4/5 Explosive Substances Act, PS Itwara, District Nanded. 
 Blast in Lamba Theatre, Secunderabad (FIR No. 31/2000, u/s. 120-B IPC read with ss. 4/5/6 Explosive Substances Act, PS Begumpet, Secunderabad, Hyderabad City, 
 Blast in the House of Azam Ghori  while preparing IEDs. (FIR No.28/1998 u/s 307 IPC read with Sec. 3/4/5 Explosive Substances Act, PS Dharmabad, District Nanded."