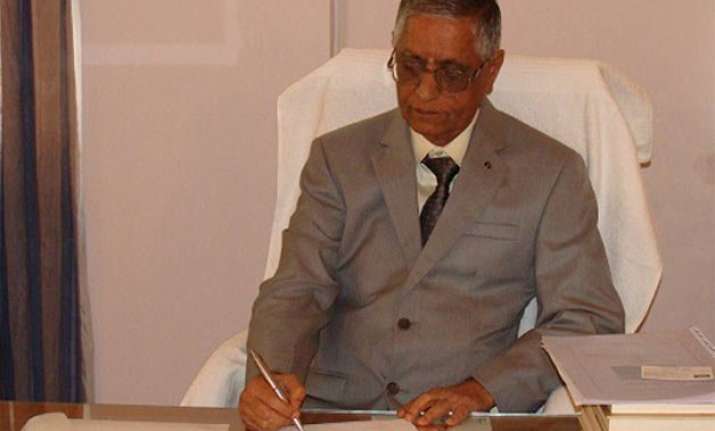 New Delhi: Calling Ram Janambhoomi-Babri Masjid issue a political problem, ICHR chief Prof Y Sudershan Rao said while it was easy to convince those connected with the mosque and the religion about evidence in favour of Ram temple, the real problem was with Leftist historians.
Stating that he had walked the streets of Ayodhya and got a feeling of living in Ramayana times, Rao said Leftist historians keep insisting that there is a need for objective evidence.
Refuting the argument that mosques were not built on existing structures, he said that there were researches suggesting that several mosques were built on land belonging to temples, including in south India.
He also said that Valmiki's Ramayana is written mostly on objective evidence and asserted that Valmiki, in fact was a historian by himself.
Rao, who took over as the Chairperson of Indian Council of Historical Research (ICHR) in June last year, was speaking at a symposium organised by RSS linked Akhil Bharatiya Itihas Sankalan Yojana.
Referring to archival material on Ayodhya as showing it to be the birthplace of Lord Ram, Rao said that there were lots of such material which had assured several people.
"But is that sufficient to clinch the issue? ...but if the other party is refusing to accept it. In that case, whatever evidence you make to show them, the other party is not willing to accept. Perhaps, those who are connected to the mosque and its religion, we can convince them. But our problem is with our own Leftist friends, the Leftist historians," he said.
They want some inscriptional evidences in favour of the temple, he said.
"There is evidence related to this episode which is questioned and they (Leftist historians) simply say that these inscriptions were carried from somewhere else. How could these inscriptions sneak into a site which was closely watched and secure?" he asked.
Rao argued that the issue is not a historical problem. "If you think it is a historical problem, a number of mosques can be shown which are evidently considered to be on temples," he said.
Even in south India there were mosques in temple compounds, he claimed and asked, if that is the case (of it being a historical problem), "do you agree to remove all of them?"
"I went to Ayodhya. There I was passing through the streets... Just walk through the streets. You will get a feeling of living in Ramayana times. Just walk through the
streets, you will definitely have this feeling. I had this feeling. You can't call it a myth, that's my experience," Rao said.
"What more proof you want if you are convinced in your heart, your mind. So that place is Ayodhya for those who believe in Rama and those who believe Rama lived there are and was born there. So this could be a common man's approach," he added.
"Some people ask me about Ramayan. Ramayan, which was written by Valmiki, was mostly based on objective evidence," Rao said adding that Valmiki was a historian himself and was the first historiographer.
He said that there has been a debates on Lord Ram for a very long time and through these controversies, he is continuously being remembered.
Apart from Rao, historian Meenakshi Jain spoke at the event giving details of the evidence that was presented in the courts in the Ram Janambhoomi-Babri masjid case. She also added that there was little evidence to show that continuous namaz was offered at the site.
Speaking at the event, one of the organisers said that the Akhil Bharatiya Itihas Sankalan Yojana was working to remove distortions in Indian history.