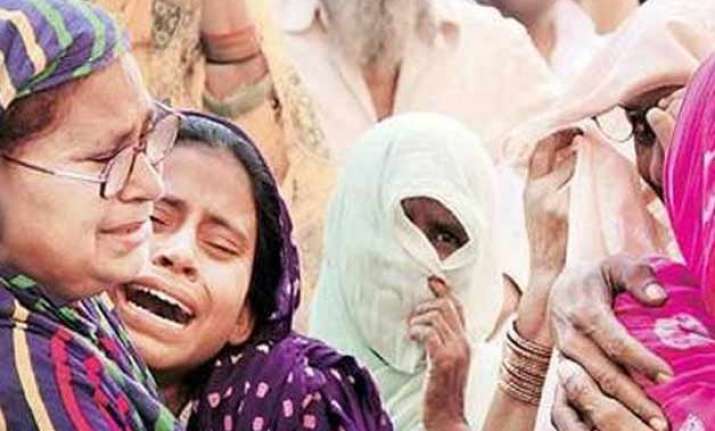 Dadri: Manoj Sisodia was the last person Mohammad Akhlaq called before he was lynched by a mob on suspicion of storing beef at his home in Dadri's Bisada village on last Monday's night.
Sisodia, a childhood friend of the victim, immediately informed the police and rushed to Akhlaq's house. Both Sisodia and Police reached the crime spot within 15 minutes but by then he was dead.
Polices sources also confirm that Akhlaq's call records show the last call from his mobile phone was made around 10.30 to Sisodia who lives about 500 metres away from the victim's house.
Sisodia told Times of India that he was shocked at his friend's sudden death since the village had never seen an incident of communal violence till that night.
Recounting the horror Sisodia said,"By village standards, it was late in the night and I was preparing to go to sleep. That was when I saw Akhlaq's name flash on my phone. He sounded frantic. He told me: 'Manoj bhai, hum khatrein mein hain. Kisi tarah police ko phone karke force bulwa do' (Manoj, we are in danger. Call up the police and ask them to send a force). Those were his last words to me."
"I called up the police and told them my friend's life was under threat. After I put the phone down, I ran to his house. I ran without stopping, but I was late. The police also arrived within 15 minutes, but Akhlaq was already dead by then. Maybe if I had reached a little earlier, I could have helped in calming down the mob, enraged at the rumours of a calf having been slaughtered in the house. At least we could get his 21-year-old son, Danish, to hospital," he added.
Sisodia himself was gripped by fear for his own life soon after he had sent Danish to hospital. "I feared that the mob would turn on me. After all, I used to dine with Akhlaq and his family often."
According to Sisodia, the villagers were upset with the patronizing tone of visiting politicians and heavy deployment of police force here.