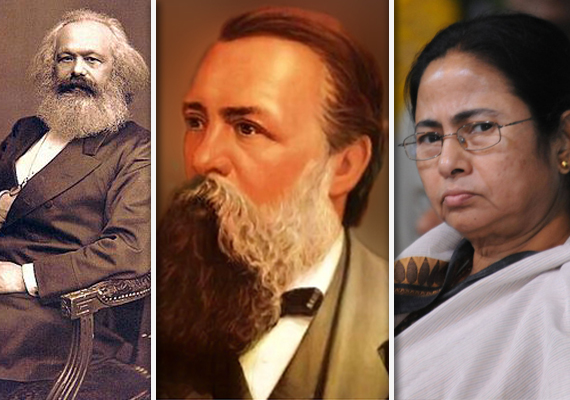 Kolkata, Apr 6: Karl Marx and Friedrich Engels— founders of Marxism—may be out of history syllabus in government schools in West Bengal following a recommendation by a state education panel.
The move by the Mamata Banerjee government months after it ended the 34-year-old Left rule in the state was condemned today by communist parties as "wrong and controversial" and an attempt to write history.

But the ruling Trinamool Congress defended the move, claiming the attempt is to "correct the imbalance" which was there is history textbooks in the state schools. Trinamool MP Derek O'Brien also made it clear that the government was not trying to doctor history.

"Marx, I believe should be studied as a historical phenomenon but not at the expense of the Mahatma, and not at the expense of Mandela," he said, adding "Bengal is redressing balance, not doctoring history."

"History doesn't begin with the Bolsheviks and end with Basus and Bhattacharyas. History preceded them and will survive them," he added.

The state's school education syllabus committee tasked to modernise the syllabus and lessen the burden of unnecessary topics on students has recommended to abolish Marx and Engels and the Bolshevik Revolution of 1917 in the textbooks.

The committee head Avik Majumdar is reported to have said that History syllabus in Bengal gave importance to a particular ideology and that an atttempt is being made to give it a balanced approach.

Majumdar further said if there was any excess of anything, including Marx, it has to be done away with.

"I fail to understand why such a historic event and great masters of history will be excluded in the curriculum.  This is not desirable and is unnecessary and unfortunate," a veteran Marxist and former Lok Sabha Speaker Somnath Chatterjee said.

CPI MP Gurudas Dasgupta called the move atrocious.  The history textbooks of Class XI and class XII discuss the Industrial Revolution and refer to Karl Marx and his contributions in that context.

The final draft of the new syllabus is expected to be submitted to the West Bengal Council of Higher Secondary Education next week.

O'Brien said nine out of 695 pages of recommendations by the education panel are related to history.

"From Class four to Class twelve every year you are given a dose of Marx, Engels and the Bolshevik revolution. In the new syllabus, it is much more balanced, there is a much more balanced view, there is much more pluralistic view and at last children in Bengal are studying an unbiased history," he said.

Brien said Industrial revolution is part of the Class eight syllabus.

Dasgupta said the move is not only politically motivated but is also motivated to malign history. CPI(M) MP Brinda Karat said the party has not discussed the move as yet but felt there is bound to be a reaction from parents.