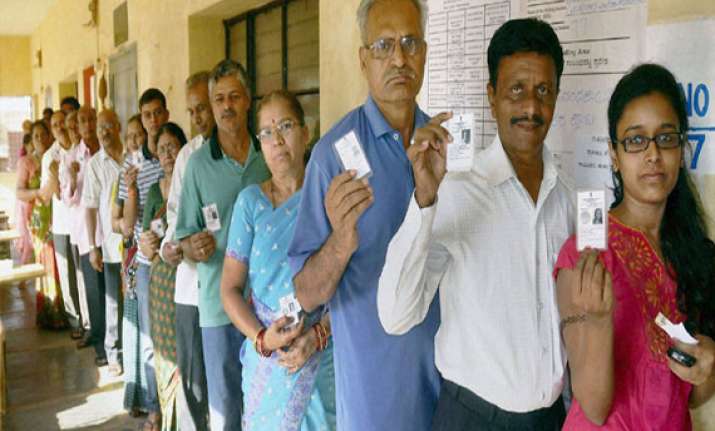 Bangalore, May 6: A 70.23 per cent voter turnout was recorded yesterday in the high-stake Karnataka Assembly electionsamid projections that the ruling BJP was on a slippery ground against a resurgent Congress.
The polling began on a brisk note at 7 a.m and the turnout ebbed in the afternoon as the mercury soared before regaining momentum in the last hours in 223 seats in the 224-member House for which a total of 2,940 candidates were in the fray with a 4.35 crore-strong electorate eligible to vote.
Election in Periyapatna in Mysore district has been put off to May 28 following the death of the BJP candidate.
Electoral officials tonight said 70.23 voting percentage was recorded with the highest turnout of 77.95 per cent in Bangalore Rural and the lowest of 52.83 per cent in Bangalore Urban.
Counting of votes will be taken up on May 8. Prominent candidates included Chief Minister Jagadish Shettar, Leader of Opposition in the Assembly Siddaramaiah, President of Karnataka Pradesh Congress Committee G Parameshwara, former Chief Minister B S Yeddyurappa and JDS state unit President H D Kumaraswamy.
Elaborate security arrangements had been made with 1.35 lakh police personnel on duty in some 52,000 polling booths where about 65,000 electronic voting machines were in place.
Barring sporadic incidents, including one at Bellary, the voting was largely peaceful. None of the incidents was of such a nature that called for repolling, Chief Electoral Officer Anil Kumar Jha told reporters.
Breakaway parties -- Karnataka Janatha Paksha of B S Yeddyurappa and BSR Congress formed by former Minister B Sriramulu -- are projected to dent the prospects of BJP, already battered by intra-party fights and allegations of corruption.
While the overall voter turnout was 64.91 per cent in the 2008 elections, the average in the 28 segments of Bangalore was a low 47.3 per cent.