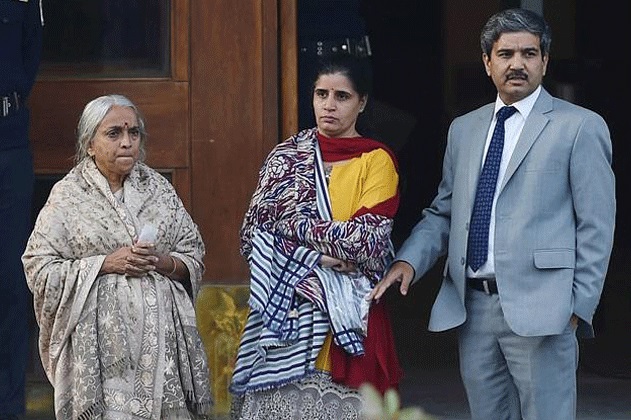 Hours after India raised strong objections to harassment of Kulbhushan Jadhav's wife and mother during their trip to Pakistan, news agency ANI has shared a video which proves that the former Indian Navy official's family was heckled and harassed by Pakistani journalists. 
The video, shot from media stands when Jadhav's wife and mother were waiting outside the Pakistani foreign ministry after the meeting, has distinct audio of Pak media shouting insensitive remarks at the Indian nationals. 
Remarks like 'aapke patidev ne hazaron begunah Pakistaniyo ke khoon se Holi kheli ispar kya kahengi?' (Your husband played Holi with the blood of thousands of Pakistanis, what you want to say about that) and 'aapke kya jazbaat hain apne kaatil bete se milne ke baad?' (How do you feel after meeting your murderous son?) can distinctively be heard in the video. 
The Indian deputy high commissioner JP Singh, who had accompanied them for the meeting, was visibly enraged with the remarks and can be seen raising objection with the positioned security over it. 
The remarks hurled at Jadhav's family did not stop until the Indian high commission's vehicle whisked them away to safety. 
#WATCH Islamabad: Pakistani journalists heckle & harass #KulbhushanJadhav's mother & wife after their meeting with him, shout, 'aapke patidev ne hazaron begunah Pakistaniyo ke khoon se Holi kheli ispar kya kahengi?' & 'aapke kya jazbaat hain apne kaatil bete se milne ke baad?' pic.twitter.com/MUYjPmHY6F

— ANI (@ANI) December 26, 2017
In hold no bars statement, MEA raised strong objections to Pakistan's lack of commitment to shared understandings over the meeting. 
"We note with regret that the Pakistani side conducted the meeting in a manner which violated the letter and spirit of our understandings," the official statemnet said. 
MEA statement raised objection to presence of Pakistani press around Jadhav's family, "The Pakistani press was allowed on multiple occasions to approach family members closely, harass and hector them and hurl false and motivated accusations about Shri Jadhav. This was despite a clear agreement that the media would not be allowed close access," it said. 
MEA said Jadhav's mother was prevented from talking in their mother tongue, although this was clearly the natural medium of communication. "She was repeatedly interrupted while doing so and eventually prevented from proceeding further in this regard," the MEA said.
"Under the pretext of security precautions, the cultural and religious sensibilities of family members were disregarded. This included removal of mangal sutra, bangles and bindi, as well as a change in attire that was not warranted by security," MEA said. 
Jadhav, who was captured in March, was sentenced to death by a Pakistani military court for alleged spying, an accusation that India has dismissed as concocted.  New Delhi says Jadhav was kidnapped in Iran where he had legitimate business interests, and brought to Pakistan. To save Jadhav, India moved the International Court of Justice, which ordered Pakistan in May to stay his execution.
During yesterday's meeting, whose pictures were released by Pakistan, Jadhav was seen sitting behind a glass screen while his mother and wife sat on the other side. They spoke through intercom and the entire 40-minute proceedings appeared to have been recorded on video.