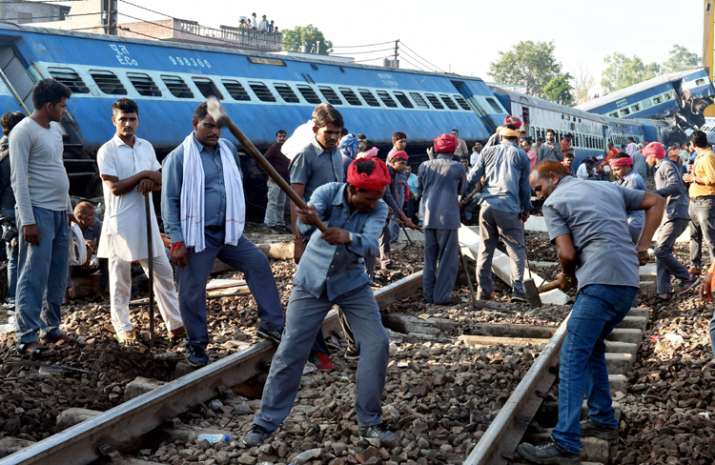 In what further exposes the 'negligence' by railway authorities that may have may have caused the derailment of Utkal Express in Khatauli near Uttar Pradesh's Muzaffarnagar on Saturday, an audio clip accessed by India TV sheds light on how railway officials' laxness apparently caused one of the deadliest train accidents in recent times. 
The audio clip, which could not be verified independently, is purportedly of the telephonic conversation between a PWI (the railway department responsible for the maintenance of tracks) worker and a senior official who is responsible for the management of traffic on the railway tracks. 
The PWI official asks the senior official for a 'blockage' of twenty minutes to change a 'glue joint' (maintenance in the track through which the Utkal Express was about to pass). However, the senior official ignored the request of 20 minutes blockage, saying that blockage will be not be allowed as several trains are about to pass by. 
The 'blockage' demanded by the PWI official here means that no train will be allowed to pass through the area of the track under maintenance during that time. However, the senior official, irresponsibly, denies the request and allows the train to pass on the damaged track. 
The audio clip clearly brings out the 'negligence' by the railway officials to be the primary reason for the derailment that left as many as 22 people dead and over 150 injured.    
Cracking the whip, the Railways sent on leave its three top officials, including a secretary-level Railway Board official, suspended four officers and transferred one in the aftermath of the incident. 
Member (Engineering) in the Railway Board, Northern Railway General Manager and Divisional Regional Manager (Delhi) have been sent on leave in the wake of the derailment in Muzaffarnagar district of Uttar Pradesh, the Railways said.
The Railways also suspended four of its officials - senior divisional engineer, assistant engineer, a senior section engineer (Permanent Way), responsible for track maintenance and a junior engineer.
Chief track engineer, Northern Railway, was transferred as part of the action by the Railways.
Yesterday, the railways officials had indicated that negligence at the local level appeared to have caused the derailment.