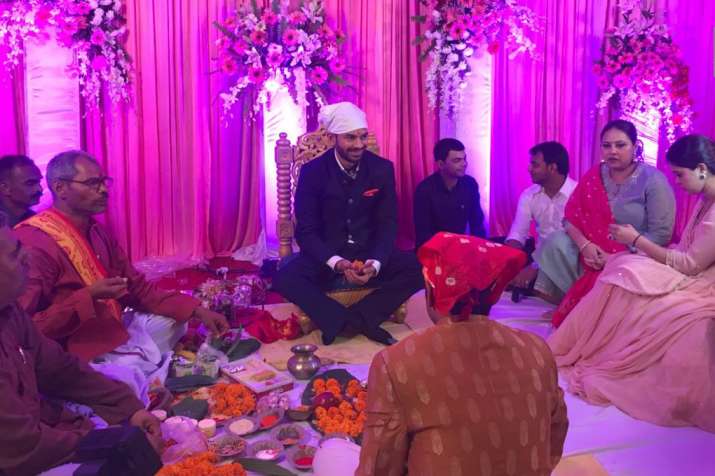 Rashtriya Janata Dal (RJD) chief Lalu Yadav and Rabri Devi's elder son Tej Pratap got engaged to Aishwarya Rai, daughter of eldest daughter of RJD leader Chandrika Prasad Rai, at a function held at Patna's Hotel Maurya. The engagement function was quite a low-key affair with only the family members and close friends attending it. Lalu's absence during the function was felt by all. "Miss you papa," tweeted Tej Pratap soon after exchanging rings with Aishwarya.
"This is a happy moment for all of us...she (Aishwarya) would be our eldest daughter-in-law. It would have been great of Laluji could have attended the function. We all missing him. I hope he will be there during the marriage," Rabri Devi said. Tej Pratap  and Aishwarya's marriage is scheduled to take place on May 12.
Misa Bharti, Lalu-Rabri's eldest daughter, also expressed the same sentiments as her mother and said she was missing her father on the occasion.
Miss you PAPA 😔

— Tej Pratap Yadav (@TejYadav14) April 18, 2018
While Tej Pratap picked a dark blue colour suit for the occasion, Aishwarya wore a sky-blue coloured saree with matching jewellery in the function. 
Special flowers ordered for the function
The hall at the five-star hotel where Tej Pratap's engagement was held was decorated with white and pink colour drapes. Special flowers were ordered from Delhi, Kolkata, Bengaluru and Pune, sources close to the family said.
This is probably for the first time that an auspicious function was organised in the Yadav family in the absence of Lalu Yadav, who is currently serving jail term after being convicted in multiple Fodder Scam cases. 
Who is Aishwarya Rai
Aishwarya Rai, the fiance of Tej Pratap Yadav, is eldest daughter of RJD leader Chandrika Prasad Rai and granddaughter of former Bihar CM Daroga Rai. Aishwarya did her schooling from Patna's famous Notre Dam Academy. She later went on to graduate from the Delhi University. Aishwarya also holds an MBA degree from Amity University, Noida.
While Tej Pratap, an MLA  from Mahua in Vaishali district, served as Health Minister in the Mahagathbandhan or Grand Alliance Government under Nitish Kumar, Aishwarya has shown no inclination towards joining politics so far.