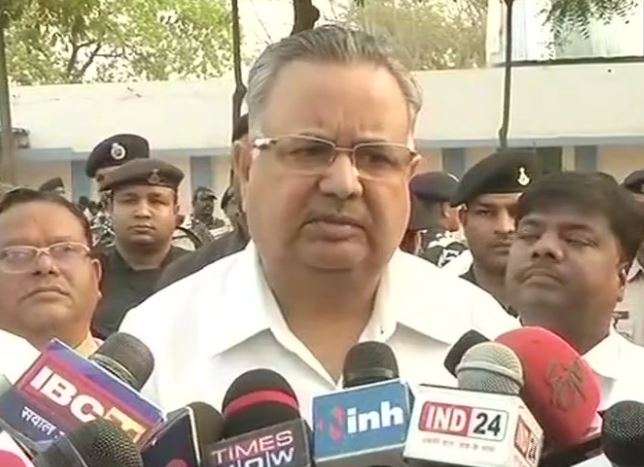 Chhattisgarh Chief Minister Raman Singh on Wednesday said that the blast that claimed the lives of nine Central Reserve Police Force (CRPF) men was a result of panic on the parts of Naxals. 
"They are doing this in fury as we are reaching close to their headquarters," Chhattisgarh CM said. 
On Tuesday morning, the specialised unit of the CRPF - COBRA battalion held a successful encounter, in which several Naxals were injured and weapons were recovered. The attack in the evening was in retaliation to that, the CM informed. 
The chief minister, along with MoS Home Hansraj Ahir, paid his last respects to the martyred soldiers in Raipur. 
Raipur: Wreath laying ceremony of nine CRPF soldiers who lost their lives in an IED blast by Naxals in Sukma yesterday; #Chhattisgarh Chief Minister Raman Singh & MoS Home Hansraj Ahir paid tributes to the soldiers pic.twitter.com/hhvxdT2Nek

— ANI (@ANI) March 14, 2018
Nine personnel of CRPF were martyred and two security personnel were injured in one of the deadliest attacks by the Maoist in Sukma yesterday.
The blast was followed by a heavy exchange of fire between the security forces and the Maoists in which the rebels also suffered a severe blow, Vivekanand Sinha, Inspector General of Police, Bastar, said. 
The incident took place around 12.30 pm when the Maoists blew up an anti-landmine vehicle of CRPF's 212 Battalion along the 5-km under-construction Kistaram-Palodi road by using an over 50 kg Improvised Explosive Device (IED). 
The CRPF personnel were on routine patrolling and going towards a newly-opened post in Palodi in Kishtaram when the Maoists set off the IED. The attack came about a year after dozens of CRPF personnel were killed in a similar ambush in Sukma district.
(With inputs from agencies)