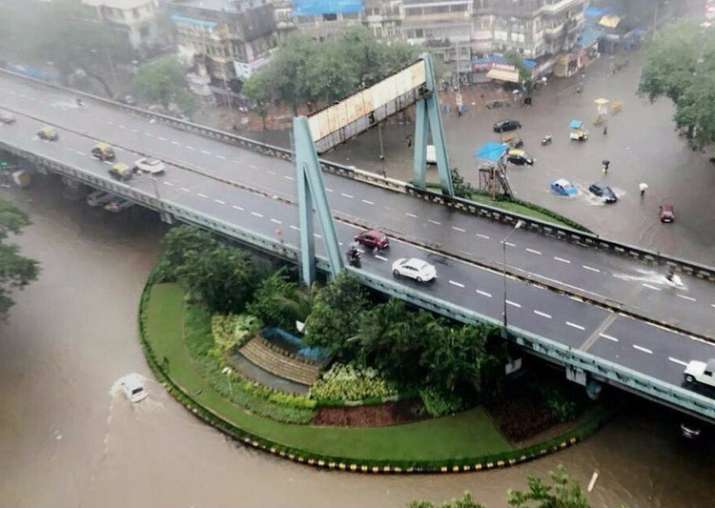 Incessant rainfall has thrown normal life out of gear in Mumbai with the Met Department warning of more heavy intermittent spells in the next few hours in the city and neighbouring areas. 
Reports of water-logging in several parts of the city have badly affected movement of road traffic. Rail and air services are also hit due to the continuous downpour. 
Santacruz weather station, which is in the suburban part of the city, has recorded 8-9 cm (80-90 mm)of rainfall from 8.30 am to nearly 11.30 am. The Colaba weather station has recorded 15 cm to 20 cm (150-200 mm) of rainfall during the same time period.
According to BrihanMumbai Municipal Corporation (BMC), in one hour, Mumbai recorded a staggering 70 mm rainfall, while it touched 100 mm between 8.30 am and 1 pm. Weather department ruled out a situation similar to July 26, 2005 when the city was inundated after being battered by rains and hundreds were killed. From July 26-27, 2005, Mumbai recorded 94 cm (944 mm) of rainfall in a day.  10-15 cm of rainfall in a day is considered normal for Mumbai.
On the other hand, state administration has sounded high alert in Mumbai, Thane, Palghar, Raigad and other parts of the state for the fourth consecutive day.
The state government has requisitioned the services of five disaster management teams, including three from Pune, to tackle any eventuality in Mumbai.
The BMC has appealed to people not to step out of their home unless absolutely necessary, while the entire civic force -- Mumbai Police, Fire Brigade and other agencies -- were on high alert to combat the situation.
Videos here:
Thankful to reach home today! #MumbaiRains pic.twitter.com/w90y2Pbm5Z

— Lady J (@Lady_J_777) August 29, 2017
@BKCMumbai #MumbaiRains pic.twitter.com/1it9E0xm0e

— Sai..!! (@itsmeSai4U) August 29, 2017
About an hour ago, Sion railway station #MumbaiRains pic.twitter.com/cU3oCadZ2z

— OMKAR (@omkar_shirke_) August 29, 2017
That's KEM Hospital in Parel after rains!! #MumbaiRains pic.twitter.com/O5JFuRTAr8

— Simply Saleem (@PerfectNot__) August 29, 2017
#MumbaiRains Haaji Ali Circle to Pedder Road pic.twitter.com/Bb36Q5JkC9

— SANJAY BAFNA (@sanjaybafna) August 29, 2017
Let the rain wash away...
All the pain of yesterday....#literally #MumbaiRains #MumbaiSinks pic.twitter.com/FtMuARRLCn

— Akash Kandari (@TheAkashKandari) August 29, 2017
Water, Water everywhere and not a drop to drink...#MumbaiRains #MumbaiSinks #Mumbai pic.twitter.com/IulJ5NC2j9

— Akash Kandari (@TheAkashKandari) August 29, 2017
And it's half day at work , another reason to love Mumbai @RidlrMUM @meg_natic #MumbaiRains pic.twitter.com/4ChLhhRplT

— tejameinhoo (@TejasSanghani) August 29, 2017
That's Parel right now near parel bus stop. Waterlogged ..knee deep water #MumbaiRains @RidlrMUM @smart_mumbaikar pic.twitter.com/lhDUOxV1zW

— Somita Pal (@somitapal) August 29, 2017
Visuals from King's Circle#MumbaiRains @Mumbaikhabar9 @thekavitasharma @LocalPressCo @RidlrMUM @Traffline @sakal_cityspeak @abpmajhatv pic.twitter.com/KG5QJrsdP0

— Shreyash Labde (@ShreyashLabde) August 29, 2017
World's First Sailing Train 😱😱 #MumbaiRains pic.twitter.com/YVUQG1bjzQ

— Akbar Kazi (@Being_Akbar) August 29, 2017