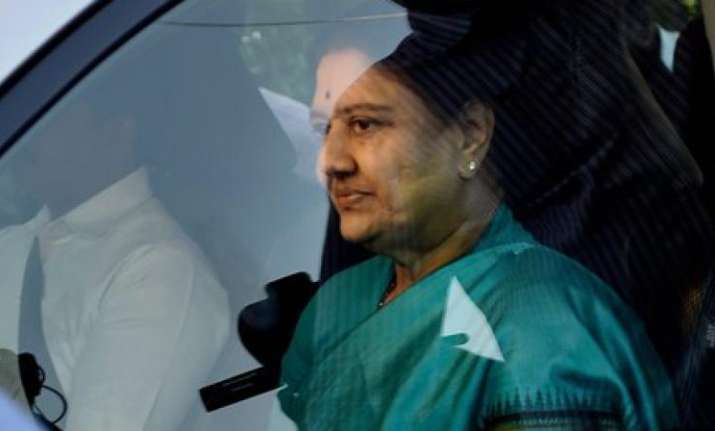 Jailed AIADMK leader VK Sasikala, who was granted five-day parole to meet her ailing husband in Chennai, will return to Bengaluru's Parappana Agrahara Central jail today.
M Natarajan, Sasikala's husband, recently had undergone liver and kidney transplantation at a hospital in Chennai.
Sasikala, a close aide of former Tamil Nadu chief minister Jayalalithaa, has been directed by the authorities to report to the Bengaluru jail on October 12 by 6 pm. 
During her five-day parole, she stayed at the residence of Krishna Priya, daughter of her sister-in-law Ilavarasi. 
Though Sasikala did not participate in any political activity, her visit to the city triggered reactions in political circles. 
Granted emergency parole from October 7 to 11, Sasikala was asked to adhere to several conditions, including a gag order on interacting with the media. While granting bail, the court had directed her to keep away from all political activity during the parole period.
Though Sasikala avoided interacting with party leaders and functionaries in keeping with parole conditions, she was greeted on road by her supporters during all her visits to the hospital. She named newborns of party workers during her hospital visits by halting her vehicle. 
The 60-year-old leader  is serving a four-year sentence in the central prison on the city's outskirts since February 15 after the Supreme Court on February 14 upheld her conviction in a corruption case by a trial court in September 2015.