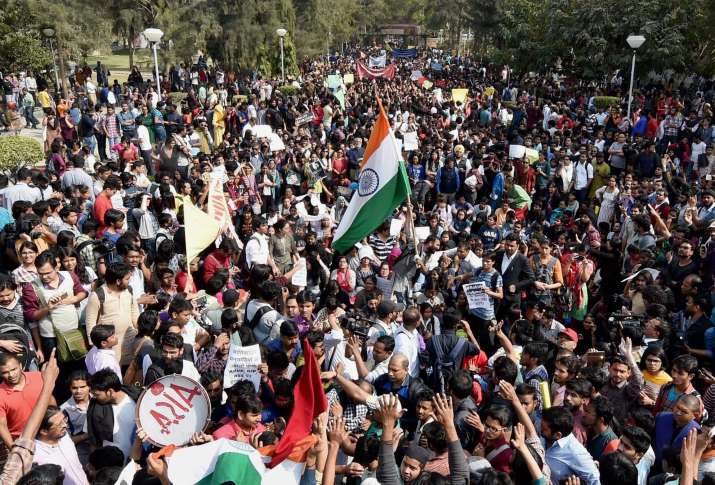 Delhi University student Gurmehar Kaur today withdrew from her social media campaign against the Akhil Bharatiya Vidyarthi Parishad (ABVP) after allegedly receiving threats from the members of the RSS-backed outfit and being trolled by the ruling BJP leaders. 
Kaur, daughter of martyr Captain Mandeep Singh, had moved to Delhi Commission of Women yesterday, which had written a letter to Delhi Police Commissioner following which an FIR was registered today. 
Last week, she had changed her Facebook profile picture to one in which she was holding a placard reading, "I am a student from Delhi University. I am not afraid of ABVP. I am not alone. Every student of India is with me. #StudentsAgainstABVP."
Ramjas college had last week witnessed large-scale violence between members of the AISA and the ABVP. The genesis of the clash was an invite to JNU students Umar Khalid and Shehla Rashid to address a seminar on 'Culture of Protests' which was withdrawn by the college authorities following opposition by the ABVP. 
Here is what happened today: 
NHRC notice to Delhi Police Commissioner
The National Human Rights Commission (NHRC) on Tuesday issued notice to Delhi Police Commissioner Amulya Patnaik on allegations of excesses by police personal against students and journalists outside Ramjas College in Delhi University campus on February 22.
"The National Human Rights Commission has issued a notice to the Delhi Police Commissioner on a complaint that police personnel attacked a female student and snatched cameras from media persons, who were recording the incident outside Ramjas College in Delhi University Campus on the 22nd February, 2017," a statement by the NHRC said.  
"Allegedly, some journalists, covering clashes, were slapped, punched and kicked by the policemen. The Commission has taken on record complaints as well as media reports making similar allegations including threats to some students on social media. The Commission has given him four weeks to submit a detailed report in the matter," the rights body said. 
FIR registered for 'rape threats' to Gurmehar Kaur
The case was registered following a complaint received from Delhi Commission for Women on behalf of Delhi University student Gurmehar Kaur (20). 
The FIR was registered under sections 354A (Sexual harassment and punishment for sexual harassment), 506 (Punishment for criminal intimidation) of IPC and section 67 of the IT Act against unknown persons, said Dependra Pathak, Special Commissioner of Police (Southwest) and Delhi Police spokesperson. 
"Yesterday, DCW forwarded a complaint of a DU student reg. online abuse. Immediately, area DCP spoke to her & provided necessary security. Her complnt was examined by Cyber Cell & an FIR No.32/17, u/s 354-A,506 IPC & 67 IT Act, PS EOW has been registerd & invstigation tkn up," Delhi Police said in a series of tweets. 
Sources said that Kaur has been provided security by Delhi Police and men in plainclothes will be patrolling the area where she stays. 
Senior officers said that she has submitted a screenshot of a message she received on Facebook from a man who allegedly threatened her with "gangrape" and "making porn videos of her". 
Army veterans vow to fight for Gurmehar, mother keeps mum 
Gurmehar's mother Rajvinder Kaur said, "No thanks... I do not want this controversy to go on." 
Punjab State Ex-Servicemen Welfare Association (Sewa) president Col (retd) Kuldip Singh Grewal vowed to fight a legal battle on Gurmehar's behalf "till the matter reaches its logical conclusion". 
"Her opinion should be respected as she has the right to raise her voice," he said. 
"No one should remain unaffected when a daughter is threatened with rape. The people of the country should raise their voice to protect the daughter of a martyr," Col (retd) Tejinder Singh Bajwa, a member of the association, said. 
Gurmehar's father Capt Mandeep Singh was commissioned in the 49 Army Air Defence Regiment in 1991 and was serving with the 4 Rashtriya Rifles battalion when he died fighting militants on August 6, 1999. 
Brigadier (retd) Ashwini Kumar, former Commanding Officer of the 3 Rashtriya Rifles battalion, who was serving in the area when the attack on Capt Mandeep's company took place, said, "The Captain and his men fought against militants with great courage and they were given a befitting reply." 
Mandeep's brother Davinderdeep Singh, a professor at a college in Nakodar at Jalandhar -- Gulmehar's hometown, said his brother would have stood like a rock behind her. 
"She is entitled to her opinion... she did not say anything anti-national," he said. 
Meanwhile, a number of ex-servicemen and representatives of various organisations condemned the rape threat to Gurmehar and appealed to the Delhi government to provide "proper security" to her.
Gurmehar Kaur withdraws from campaign; college backs her 
"I'm withdrawing from the campaign. Congratulations everyone. I request to be left alone. I said what I had to say... One thing is for sure, next time we will think twice before resorting to violence or threats and that's all this was about," she tweeted. 
Kaur said she has been through a lot, and "this is all my 20 year self could take". 
After withdrawing from the campaign, the DU student will not participate in any activity against ABVP members. Today, she will also not participate in a march being held by a group of students at the Delhi University. 
In a series of tweets, she said, "The campaign is about students and not about me. Please go to the march in huge numbers. Best of luck... To anyone questioning my courage and bravery.. I've shown more than enough." 
The Lady Sri Ram college backed Kaur saying that she has the right to express her opinion. 
"We support our student as duty of institutions is to nurture students without fear. Gurmehar has right to express her opinion and she responded sensitively, bravely. She has fulfilled her duty as a young citizen," the college said in a statement. 
Students march to 'save DU' from ABVP, 'reclaim' space to dissent
Hundreds of students and teachers of Delhi University, Jawaharlal Nehru University (JNU) and Jamia Millia today came out on Delhi streets with a call to "save" the varsities from the "onslaught" of Akhil Bharatiya Vidyarthi Parishad (ABVP) and "curbing" of dissent, nearly a week after the violence in Ramjas College.  
Also Read: Students march to 'save DU' from ABVP, 'reclaim' space to dissent
The students held posters with messages like "Your nationalism is not above our democracy".  
The protesters, mainly comprising students of left forums like All India Students' Association (AISA), shouted slogans "ABVP Go Back" and "Azaadi" as the march made its way through the roads of North Campus towards the Arts Faculty building.  
Many held banners demanding the right to freedom of speech and condemning the ABVP for the February 21-22 disturbances in the otherwise placid campus.