Follow us on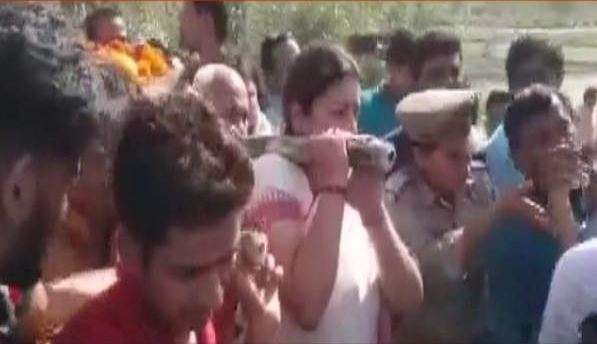 Newly elected MP of Amethi Smriti Irani became pallbearer for her close aide Surendra Singh during his last rites on Sunday. Surendra Singh was shot dead on Saturday night in Amethi District. 
Smriti Irani who is now being called a giant killer after defeating Rahul Gandhi on his home turf Amethi, rushed to her constituency after she learnt about murder of Surendra Singh. Surendra Singh was from Baraulia in Uttar Pradesh and had campaigned for BJP during Lok Sabha Elections 2019. The police hs not ruled out political angle to the murder
Director General of Police (UP) O P Singh has already said that an extensive investigation is underway and the murderers will be caught soon.
Baraulia village was in news during campaigning in the recently concluded Lok Sabha elections, as Congress general secretary Priyanka Gandhi Vadra had accused Smriti Irani of distributing shoes to the residents in order to insult Rahul Gandhi.
Two men allegedly shot Surendra Singh.
Following the incident, Singh was referred to Lucknow in a serious condition, where he succumbed to his injuries during treatment, a police officer said. 
Two people have been detained in connection with the incident and further investigation is underway. Family of the deceased has alleged that Singh's was a political murder.
Read | UP: Smriti Irani leaves for Amethi after unknown assailants kill close aide Surendra Singh; suspects held
Watch | BJP MP from Amethi, Smriti Irani's close aide shot dead in Amethi; Suspects held