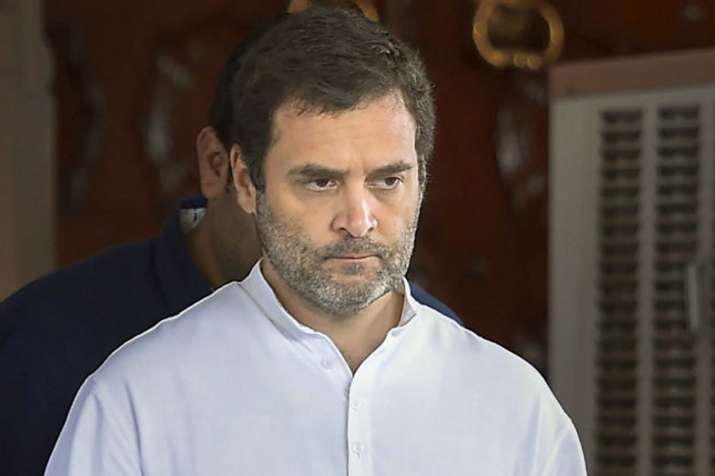 The Congress party on Thursday wrote to Union Home Minister Rajnath Singh claiming a breach in security of its president Rahul Gandhi.
The Ministry of Home Affairs (MHA), however, refuted any possibility of such a breach.
In a letter to the Ministry of Home Affairs, the Congress party had, earlier in the day, said the security breach happened on April 10 when Rahul Gandhi was addressing the media after filing nomination from Amethi. 
"…a laser (green) was pointed at his head, intermittently on at least 7 separate occasions in a short period; including twice at his temple on the right side of the head," the Congress claimed in the letter.
"A perusal of the video by various persons including former security personnel leads to a prima facie conclusion that this laser could emanate from a potential weapon such as a sniper gun," the letter said, referring to a video clip of Rahul's interaction with the media which has also been provided to the MHA.
Rahul Gandhi on Wednesday filed his nomination for the Amethi Lok Sabha seat. He was accompanied by UPA chairperson and mother Sonia Gandhi, sister Priyanka Gandhi Vadra and brother-in-law Robert Vadra.
 
After the paperwork was done, the Congress chief organised an impromptu press briefing -- during which a green laser light was observed to have been pointed on his head.
The MHA, however, has begged to differ, citing, "As soon as MHA's attention was drawn to reports of incident of green light being pointed at him [Rahul Gandhi] yesterday in Amethi, the Director (SPG) was asked to verify factual position." 
Director SPG informed MHA that the green light shown in the clipping was found to be that of a mobile phone used by AICC photographer, who was video graphing the impromptu press interaction of Rahul Gandhi near the collectorate in Amethi, the MHA statement added.
The Congress letter was jointly undersigned by Ahmed Patel, Jairam Ramesh and Randeep Singh Surjewala.
The Congress had also referred to the assassination of former prime ministers Rajiv Gandhi and Indira Gandhi -- Rahul's father and grandmother respectively -- in the letter.
The letter added, "We urge you to immediately take note of this grave and unacceptable security threat as also the security lapse in the security of the Congress president... This is also an alarming lapse on part of the UP administration which is responsible for the peripheral security."