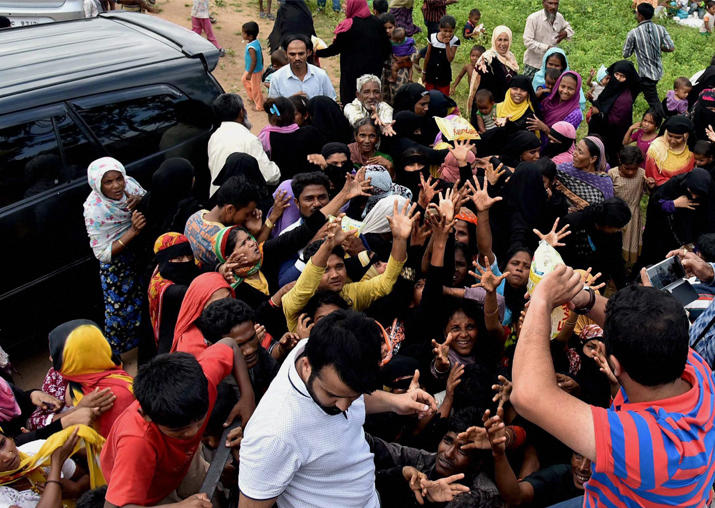 The Centre's submission to the Supreme Court terming the Rohingya refugees as 'illegal' immigrants has evoked sharp criticism from several opposition leaders and clerics who have accused the government of violating the fundamental rights of refugees for which they are entitled for. Spewing venom against the government, a Kolkata-based clerics has threatened bloodshed if the government initiates the process of deporting Rohingyas.
 
Addressing a huge gathering here on September 18, cleric Maulana Shabbir Ali Azad Warsi demanded for the settlement of Rohingyas in the country. He said that Muslims are in minority, but it doesn't mean 'we are weak'. He even said that the government don't know the history of the Muslims. "We are Hussaini Muslims. even if we are 72, we can kill lakhs."
 
Issuing an ultimatum to the government in  national capital, he said that Rohingyas are "our brothers" and that "we all Muslims (everywhere in the world) are brothers". 
 
He further threatened government not to try to evacuate the Rohingyas from West Bengal. "This is Bengal, not Assam, Gujarat, Uttar Pradesh, Muzaffarnagar or Muzaffarpur," the cleric said this while addressing a huge gathering of Muslims in Kolkata following Centre telling the Supreme Court of intelligence on links between some Rohingya Muslims, Pakistan's ISI and the Islamic State.
 
West Bengal Chief Minister Mamata Banerjee has also taken a different stand on the matter, saying that the government should ensure that commoners did not suffer. "I think all commoners are not terrorists. There are bad people and good people in every community. There is a difference between commoners and terrorists. Commoners must not suffer because if they do then humanity will suffer. I think that in accordance with the UN verdict we should not compromise our humanity with anything else," Banerjee had told reporters.
In a much-awaited affidavit in the apex court, the Ministry of Home Affairs (MHA) on Monday made its stand clear saying the fundamental right to settle in any part of the country was available only to citizens and not the Rohingyas. It categorically stated that the apex court should not invoke its jurisdiction, as the issue of Rohingyas "fell under the exclusive domain of policy decision of the executive". The MHA noted that the citizens' rights like right to life and employment get adversely affected due to the burden on resources posed by the Rohingyas, whose numbers have now swelled to over 40,000.