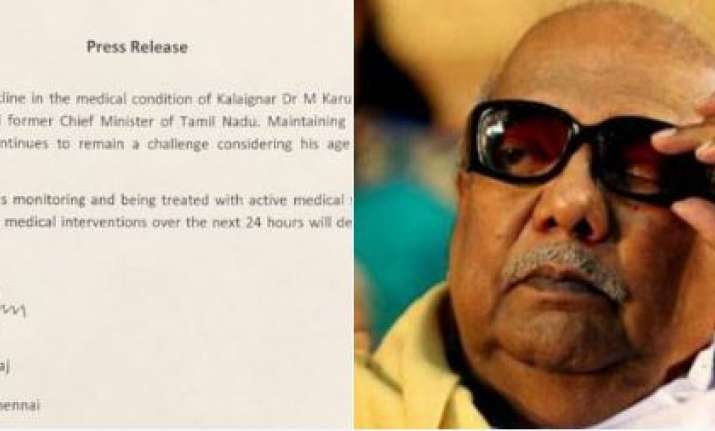 The health condition of M Karunanidhi remained critical, doctors treating DMK president at the Kauvery Hospital here said on Monday. As per reports, after recovering strongly last week, his condition might be deteriorating once again.
"I came to hospital in morning. There was some setback in his health in the morning, after that it is improving. He is still under doctors' observation and treatment. I pray to God for his speedy recovery," ANI quoted S Thirunavukkarasar, Tamil Nadu Congress Committee president, as saying. 
Here are LATEST UPDATES:
Union Minister Nitin Gadkari met DMK leader MK Stalin & Kanimozhi at Chennai's Kauvery hospital to inquire about DMK chief M Karunanidhi's health condition. #TamilNadu pic.twitter.com/KdVBkS6ez2

— ANI (@ANI) August 6, 2018
09:05 pm DMK MPs leaving for Chennai tonight
09:00 pm Nitin Gadkari reaches Kauvery Hospital
Chennai's Kauvery Hospital issues the medical bulletin of DMK Chief M Karunanidhi; states a decline in his medical condition. #TamilNadu pic.twitter.com/CSCUfOuE49

— ANI (@ANI) August 6, 2018
Outside visuals from Chennai's Kauvery hospital where DMK chief M Karunanidhi is admitted. #TamilNadu pic.twitter.com/TQLSwBqOfE

— ANI (@ANI) August 6, 2018
On Sunday, President Ram Nath Kovind visited Karunanidhi and wished him a speedy recovery.
"Visited Thiru Karunanidhi, met Kalaignar's family members and doctors, and inquired about his health. Wishing the former Chief Minister of Tamil Nadu, a veteran of our public life, a quick recovery," Kovind tweeted.
Earlier, former Prime Minister and Janata Dal (Secular) leader H.D. Deve Gowda also visited Kauvery Hospital and enquired about Karunanidhi's health.
On Thursday, Kerala Chief Minister Pinarayi Vijayan termed Karunanidhi a born fighter. He made the remark after visiting Karunanidhi at the hospital.
Speaking to reporters outside the hospital, Vijayan said he met DMK leader and Karunanidhi's son M.K. Stalin and daughter Kanimozhi and enquired about the 94-year old politician's health condition.
After a dip in his blood pressure, five-time Chief Minister of Tamil Nadu, Karunanidhi was admitted to Kauvery Hospital on July 28 and has since been under treatment. 
(With inputs from agencies) 
This is a developing story last updated at 12.05 am on August 7